Corsair's tri-channel DDR3-1333 memory kits are already available in 3GB and 6GB capacities, and the mainstream parts are relatively well-priced in terms of DDR3 solutions.
If the mainstream parts don't provide quite enough oomph, you'll be holding out for Corsair's high-end kits and they'll be hitting shelves just before Intel lets loose its Core i7 processors.
On the high-end front, Corsair will be rolling out 1,600MHz and 1,866MHz Dominator kits in 3GB and 6GB capacities. All four kits will feature Corsair's patented Dual-Path Heat Exchange (DHX), and the blazing-fast 1,866MHz offerings will be armed with an additional Airflow fan.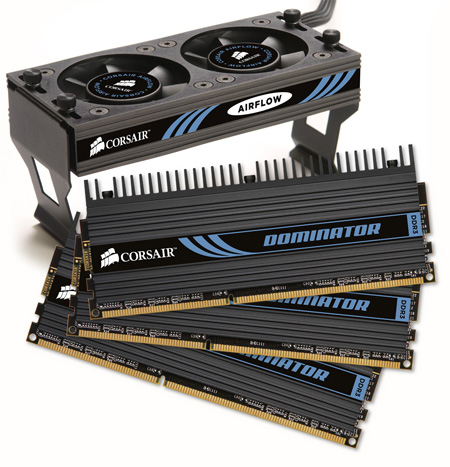 We can expect all six of Corsair's launch solutions to be available in a matter of weeks, and the expected U.S. MSRP breaks down as follows:
| | | |
| --- | --- | --- |
| TR3X6G1866C9DF | 6GB Kit 1866MHz DOMINATOR with Airflow fan | $475 |
| TR3X3G1866C9DF | 3GB Kit 1866MHz DOMINATOR with Airflow fan | $250 |
| TR3X6G1600C8D | 6GB Kit 1600MHz DOMINATOR | $300 |
| TR3X3G1600C8D | 3GB Kit 1600MHz DOMINATOR | $175 |
| TR3X6G1333C9 | 6GB Kit 1333MHz | $230 |
| TR3X3G1333C9 | 3GB Kit 1333MHz | $120 |
Official press release: Corsair Launches Triple Pack Memory modules for Intel® CoreTM i7 processors