Corsair has launched its new Dominator Platinum Special Edition Contrast DDR4 memory, with immediate availability. The modules have a crisp monochrome look, with the titular 'contrast' provided by the pearlescent white and high-gloss black surface finishes. Adding extra sparkle, Corsair has furnished these modules with white LEDs in the top bar which bears the 'Dominator' branding.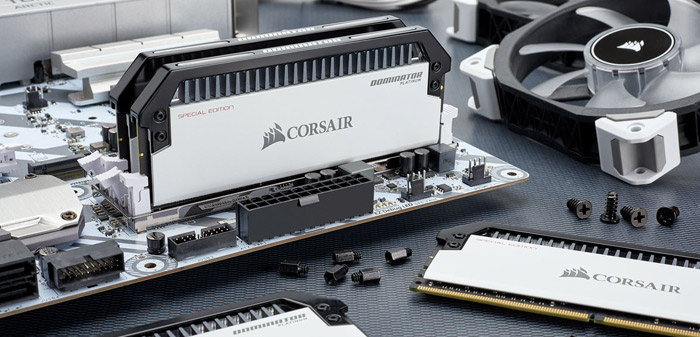 As the intro paragraph concentrated on appearance, similar to the focus of Corsair's PR blurb, let us change gear and look at some more technical qualities of these modules. Corsair told HEXUS in an email that the new Dominator Platinum Special Edition Contrast DDR4 modules are built on an "industry leading 10-Layer PCB and patented DHX cooling technology". It is hinted that the cooling technology provides good memory overclocking headroom.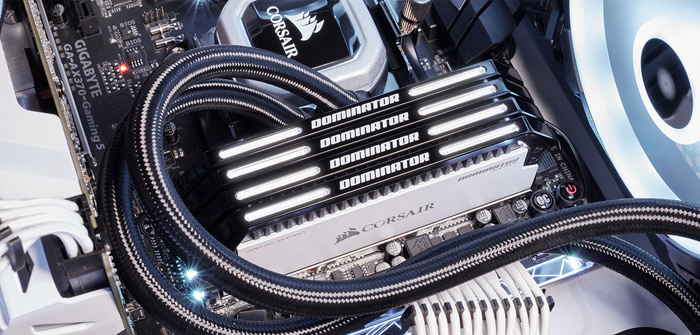 Corsair's latest DDR4 memory modules are built using "carefully screened and selected Samsung ICs," according to the PC enthusiast targeted components and systems maker. Out of the box both 32GB kits available run at 3,466MHz, on a voiltage of 1.35V, with timings of 16-18-18-36.

Before I get to the pricing information it is worth stressing that these are premium memory modules, described variously as "engineered for world-class system builds," "specially crafted, " and "meticulously designed with painstaking attention to detail." Thus these individually numbered "for exclusivity" 32GB memory kits come with RRPs of £400 or more. Availability is immediate at the Corsair web store in the United States, UK and Germany. Pricing is as follows:
| | | |
| --- | --- | --- |
| SKUs | Description | Price |
| CMD32GX4M2C3466C16W | 32GB (2X 16GB), DDR4 3466, CONTRAST | $439.99 Exc Tax, £399.99 Inc. VAT, €434.99 Inc. Tax |
| CMD32GX4M4C3466C16W | 32GB (4X 8GB), DDR4 3466, CONTRAST | $479.99 Exc Tax, £434.99 Inc. VAT, €474.99 Inc. Tax |