Corsair Memory gets sexy at CeBIT



Hang on, how can memory be sexy? It's just a couple of dull grey sticks that sit inside your PC and do stuff, right? It's the bane of novice computer users everywhere as they confuse memory with hard drive capacity, or the stuff serious overclockers spend weeks tweaking to eek the last ounce of performance out of their machines.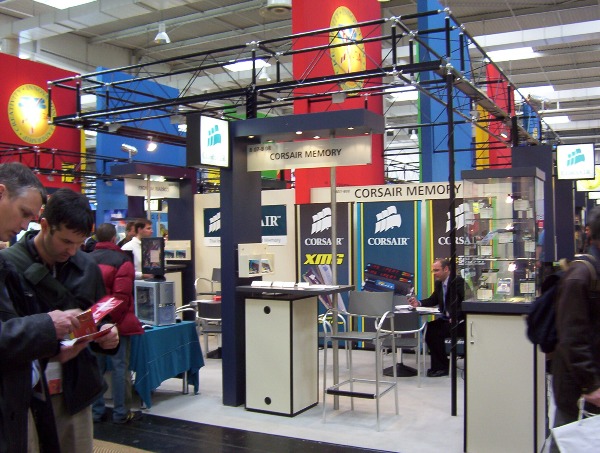 So although it's essential to a system (no matter how much it confuses your mum), you can hardly call it sexy unless your idea of fun is to wear beige cardigan to a nightclub and match it with a pair of red patent leather winkle pickers... definitely NOT sexy… until now.

Over on the Corsair stand, Chris Gibson and his crew are handing out the Kleenex to mop up the drool as everyone gets a good look at their incredibly sexy ultra low latency XMS Xpert 3200XL DDR 400+ Memory with Programmable LED Display. Having had a look at this stuff in action and watching the scrolling display say 'Welcome to CEBIT 2005', it'd be hard for anyone not to reach for the hacksaw and cut a window in their case as soon as they got home.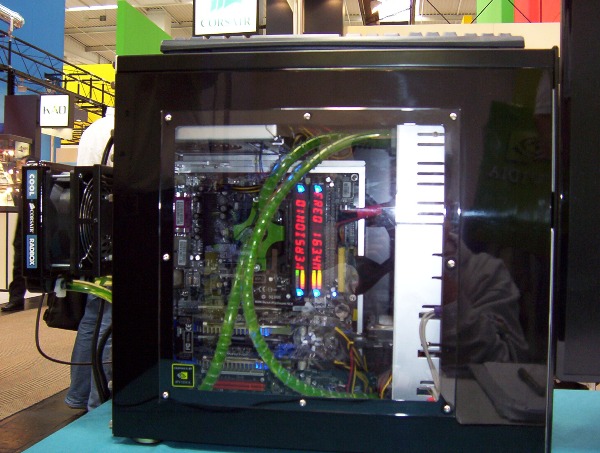 The display isn't just for looks though, as the XMS Xpert is the world's first memory to monitor module parametric data in real time. Using a large 10 digit display you can show the actual frequency as measured by an integrated crystal, as well as the measured-on-module voltage and the temperature under the heatsink in either Centigrade or Fahrenheit. On top of that you can also punch in a scrolling message of up to 69 characters too!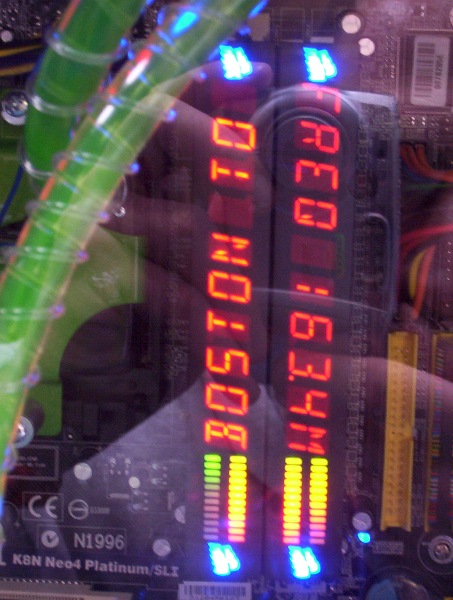 Also on display was the Corsair XMS2 DDR2 memory, which, though not as snazzy as the XMS Xpert, still cut a dash with its cool blue graphic. Interestingly, this was running on a new mainboard that is still waiting to be named! We have it on good authority that this is an nForce 4 SLI for Intel Chipset board… For the tech-heads amongst you, the set up in the picture is XMS2 Dual DDR2 667MHz, and yes, that's a couple of NVIDIA GeForce 6800 Ultras in SLI. Well, no point having the fastest and most reliable memory on the market and not pushing it with an 'uber-stomping' rig now, is there?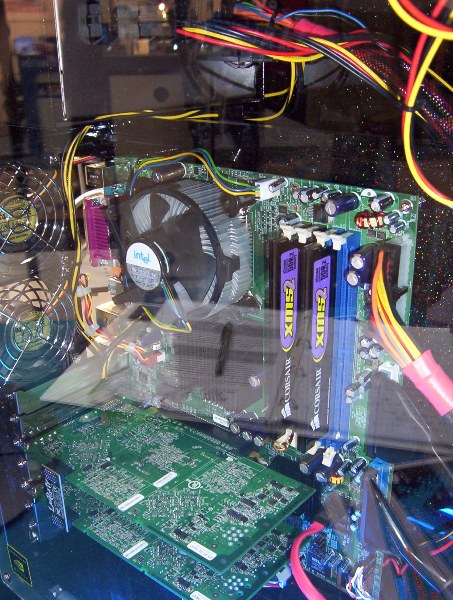 And if that wasn't enough, Corsair is also showcasing a whole range of removable storage devices. I must admit, having had a minor willy wave with my recent purchase of a 1GB SD card, Corsair have made me feel inadequate all over again with their range of on-the-go storage solutions. On the memory card front, they've got compact flash cards weighing in at a meaty 4GB with an impressive 6MB per second sustained read speed and SD cards of up to 2GB with 5MB per second sustained write speeds.

But it doesn't stop there. The Flash Voyager USB 2.0 drive from Corsair is kept safe and snug in a rubberized housing which gives it water resistance and durability as well as helping make it shockproof. The Flash Voyager series starts with 128MB drives and tops out at 2GB… To put that in perspective, you could fit over 500 average sized MP3s on a 2GB drive, or well over 2000 2MP JPEGs. With that amount of data, it's a good thing these babies are USB 2.0 compliant and support data transfer rates of up to 19Mb/sec…. oh, and I just thought of something else to fill up a 2GB Flash Voyager…my list of excuses to the wife as to why I now think beige cardies and red leather shoes are in. After all, Corsair XMS2 DDR2 and the XMS Xpert memory modules are most definitely sexy, so why not me too?