Taiwan's Enermax has just launched its new REVOLUTION DUO Power Supply range. It has created three of these new dual-fan PSUs rated at 500W, 600W, and 700W and they are all 80 Plus GOLD rated for efficiency. The new PSUs use a pair of patented Enermax Twister Bearing fans in a DUOFlow configuration to help shift air and keep your PSU running cool for long-term stability.

Enermax says the return to dual-fan PSU designs was deemed a necessity due to the increased demand of PSU shroud cases. Such cases are great for cable management, and for a neat and clean build, says Enermax, but they stifle air flow though the PSU compartment. Thus the DUOFlow design was formulated. DUOFlow is said to be a quieter solution than a single fan PSU as the fan pairing can rotate more slowly.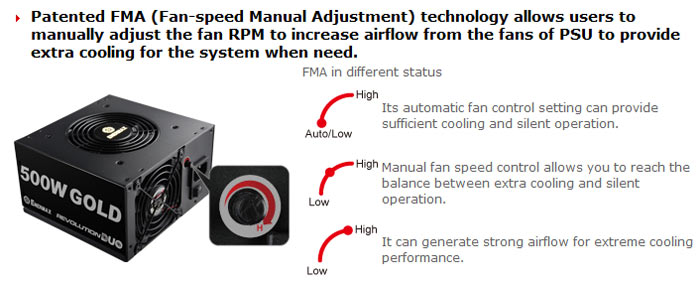 DUOFlow PSU cooling combines an 8cm and a 10cm fan to draw air into the PSU body and expel it, creating ample air flow over the heat generating components within. As mentioned in the intro, Enermax employs its patented Twister Bearing fans. It also leverages its patented FMA (Fan-speed Manual Adjustment) function to provide optimal cooling upon user demand. The default FMA setting adjusts the speed of the pair of fans depending upon the measured thermals. Users can boost air flow in chassis without a PSU shroud by switching the orientation of their REVOUTION DUO, as pictured below.

Enermax REVOLUTION DUO dual-fan PSUs are 80 Plus GOLD certified and provide 87-92 per cent high efficiency performance at 20-100 per cent load. Being 2013 ErP Lot 6 ready, these new PSUs consume under 0.5W in standby mode and use high efficiency +5Vsb circuitry (when combined with a compatible motherboard).
The new PSUs provide stable output with multiple safeguards including OVP, UVP, OPP, OCP (+3.3V/+5V), SCP & SIP.