A new product from FSP looks set to provide a power boost to systems struggling to feed hungry SLI and CrossFire hardware.
The idea behind FSP's Booster X3 is that when users get an urge for some multi-GPU action, but fear their existing PSU won't be up for it, they can use this as a secondary PSU to meet to satisfy a pair of power hungry graphics cards.
From the specs of the Booster X3, it only serves to provide 12V. We're guessing, then, that it simply possesses a pair of PCIe power connectors for use with two graphics cards. However, FSP could have implemented it differently. Unfortunately their press release doesn't detail this. The specs also say there's a ripple of 150V, so we're hoping that actually means mV.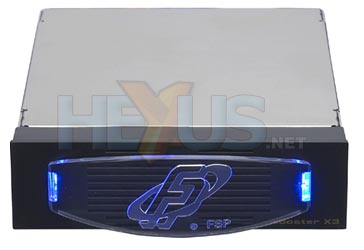 Visible in this shot is the fascia of the Booster X3 with its blue LEDs. Behind that fascia are two intake fans to provide cooling. They are quiet in operation, according to FSP. The Booster X3 will fit into a spare 5.25" expansion bay, so you won't need to get your Dremel out for this secondary PSU installation.
The Booster X3 will have a price tag of around £55 exc. VAT when it becomes available next week. That does make it cheaper than buying a new 600W+ PSU, so perhaps FSP have a handy little product here, although its market may be limited by the fact that it seems exclusively suited to the upgrading enthusiast on a budget.