FSP Epsilon FSP700-80GL Spy Shots
If you cast your mind back to late September you'll remember our epic power supply group test. We took 30 or so PSUs out to Taiwan just before Computex for some serious stress testing, resulting in a mostly comprehensive look at PSUs on sale today from low end to high with everything in between.

One of the more interesting PSUs we tested was the AOpen AO700-12ALN, a 700W unit that managed the full 700W of output power without issue, at high efficiency (80%+ !), with the four independant +12V rails making it ideal as an enthusiast class supply. Shortly after publishing, FSP let us know they were bringing a similar unit to market under the Epsilon brand name and they were very confident the FSP700-80GL would show all the same performance traits that the AOpen did.

This morning some spy shots made their way into my grubby paws, showing the final shipping configuration of the unit as it'll be sold.

First off, the PSU chassis.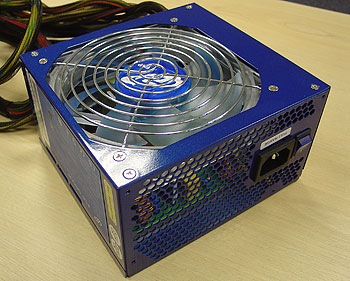 A not unattractive blue (although I'd prefer it in black from a personal aesthetic point of view, like the AOpen), the FSP700-80GL is equipped with a 12cm fan and perforated side where the power input connector is. A universal voltage input is accepted of course.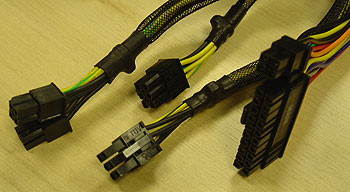 Main connector wise you've got 24-pin primary ATX (with split, excellently), SSI server-class connector (which can be split into P4 and P4+ for modern desktop mainboards) and a pair of 6-pin PCI Express graphics connectors for out-of-the-box SLI or Crossfire support. We'll update this article with the main cabling loop setup when we get it.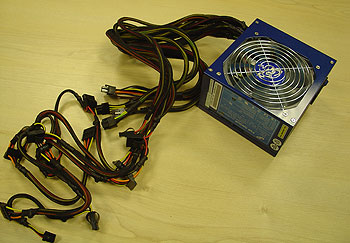 Finally you can see the braided cabling runs (right to the source, which rocks) and while it's not a modular supply and the runs look a little long, it'll be worth suffering for the PSU's performance traits (should they be the same as the AOpen as FSP claim, which we'll verify as soon as we can).

Look out for a full review of the Epsilon FSP700-80GL as soon as we can get one in-house for testing. On the face of it, just from the shots, it looks like a rather nice supply indeed.


Where to buy
FSP have sent over a list of retailers currently carrying the Epsilon FSP700-80GL. At over £110 including VAT, it's not cheap, but if you want to pick one up you can do so from Vadim, Special Tech and Gladiator, Scan, with Microdirect and Overclock listing it for sale very shortly.