Remember the 625W FirePSU we pictured at Sapphire's booth back at CeBIT in March? Well, back then we were told that Sapphire plans to introduce larger-capacity models that are better equipped to handle the load imposed by high-power graphics cards.
If you've been waiting patiently for Sapphire's plans to turn into reality, you've hit the jackpot today as the Hong Kong-based manufacturer has launched not one but three new higher-capacity offerings.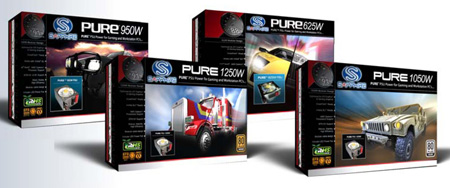 The existing 625W FirePSU will be re-branded to form part of Sapphire's PURE line of 80 Plus power supplies, and joining the 625W unit are larger capacity 950W, 1,050W and 1,250W models.
For the enthusiast planning a beast of a build, Sapphire's 1,050W and 1,250W PURE power supplies come in rated at 80 Plus Silver and 80 Plus Bronze, respectively.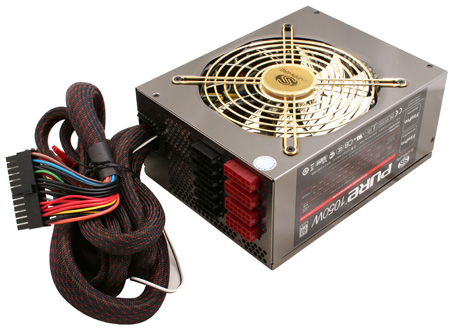 For those hoping for something a little less extreme, the PURE 950W is 80 Plus Silver-certified and promises to be "positioned at a price level to compete with power supplies that have much lower specifications". Though, we'll have to wait for real-world pricing to see how competitive Sapphire's figures really are.
All four PURE-series PSUs come with a modular cable system, aluminium capacitors, and a 13.5cm white-LED ball-bearing fan that'll run at user-controlled speeds ranging from 450RPM to 2,000RPM. No word on availability just yet, but Sapphire's complete specification for the three new models can be found below.
Pure PSU 950W

Pure PSU 1050W

Pure PSU 1250W

AC Input Voltage

115-240VAC, 50-60Hz
(Maximum range: 100-264VAC, 47-63Hz)

AC Input Current

10 – 5A

11 – 5.5A

15 – 6A

DC Output

Rated

Combined

Rated

Combined

Rated

Combined

3.3V

0-25A

170W

0-25A

170W

0-25A

170W

5V

0-25A

0-25A

0-25A

12V1

0-30A

948W
(79A)

0-30A

1044W
(87A)

0-30A

1248W
(104A)

12V2

0-30A

0-30A

0-30A

12V3

0-30A

0-30A

0-30A

12V4

0-30A

0-30A

0-30A

12V5

0-30A

0-30A

0-30A

12V6

0-30A

0-30A

0-30A

-12V

0-0.6A

7.2W

0-0.6A

7.2W

0-0.6A

7.2W

5Vsb

0-5A

25W

0-5A

25W

0-5A

25W

Total Power

950W

1050W

1250W

Peak Power

1140W

1260W

1500W