Antec, Corsair, OCZ, Thermaltake, Zalman and more...
Modular power supplies, which allow users to detach unused cables, create less clutter and provide better airflow, are loved by us all. The simple-but-effective idea has to rank up there among some of the very best.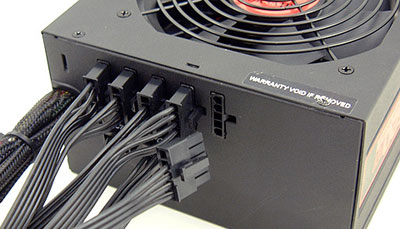 The trouble is, who came up with the idea first? Well, a short while back, US-based manufacturer, Ultra Products, was awarded a patent for modular power supply components.
That as you can imagine, spells trouble for every other manufacturer using modular power supply designs and Ultra Products has decided to take them all to court.
A little under a week ago, Ultra Products claimed patent infringement and filed suit at the Florida Middle District Court against some of the very biggest names in the power supply industry, such as Antec, Corsair and Zalman - to name just a few.
No other details are yet known, but with so many big names involved, we're expecting to hear more about this one.
What do you think, dear readers? Is the "sue everyone" mentality getting out of control? Share your thoughts in the HEXUS forums.
The complete list of defendants is as follows:
Antec, Inc., Channel Well Technology Co. Ltd., Channel Well Technology Co. U.S.A., Inc., Corsair Memory, Inc., Enhance Electronics Co. Ltd., E-Power Technology/PCMCIS, SPI Electronic Co. Ltd., FSP Group USA Corp., Koolance USA, Mushkin, Inc., OCZ Technology, Sea Sonic Electronics Co. Ltd., Silverstone Technology, Inc., Spire-Bytecom Fanner Corporation, Tagan Technology Co. Ltd., Tagan Technology Co., Thermaltake Technology Co. Ltd., Thermaltake, Inc., Topower Computer Industrial Co. Ltd., Topower Computer U.S.A., Inc., Zalman Technology Company Ltd. and Zalman USA, Inc.
Source: Justia.com