Like many other PC peripheral makers before it Biostar is looking to the PC gaming market to make its product portfolio more lucrative. However, Biostar's first ever PC gaming mouse, the AM2, is a modest ambidextrous rodent retailing at an MSRP of just $9.99. So what do you get for that cash? Read on…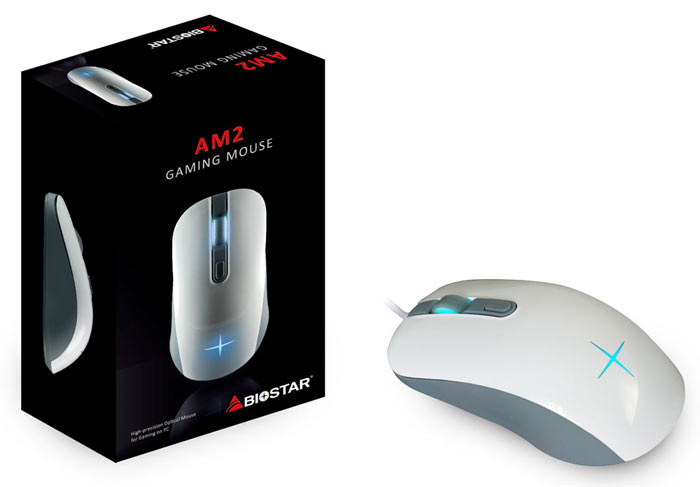 The Biostar AM2 is a rather simple design, which to my eyes looks quite a lot like an old Microsoft Intellimouse optical I used to own. For a gaming mouse it is pretty short on switches, it only features a left and right button with the scroll wheel functioning as the third and only other clickable input method. Biostar names the main left and right clicker switch manufacturer as Huano and informs us that they are rated for a 10 million click lifespan.
For the mouse sensor Biostar has chosen an Avago 5050 sensor IC. This tracks your mouse movement at up to 4500fps, with a max tracking speed of 30ips, and max acceleration of 8G. Meanwhile users can toggle the DPI of the mouse via a switch above the wheel. There are four preset DPI settings which can be switched between; 800, 1,200, 1,600, and 2,400 DPI.

The AM2 enhances its gaming chops further with that modern gaming must-have feature of LED lighting. The LEDs light two zones – around the click wheel and in the centre of the palm area. The lighting isn't just 'pretty' it provides a visual colour indicator of your current DPI setting.
As mentioned in the intro, Biostar has set a very competitive MSRP for the AM2, at US$9.99. We haven't been informed about availability outside the US or about when the AM2 will become available online / in retail. I've reproduced the full product specification table below.
Biostar AM2 gaming mouse spec:
| | |
| --- | --- |
| Sensor IC | AVAGO 5050 |
| Frame Rate | 4500fps |
| Tracking Speed | 30ips |
| Max. Acceleration | 8G |
| Report Rate | 125Hz/s |
| DPI/LED | 800(Default) / 1200(Blue) / 1600(Green) / 2400(Blue-Green) |
| Switch Life | HUANO switch / Max. 10 million times |
| Foot Pad | Teflon |
| Mouse Colour | White |
| Mouse Dimension | 122x66x38 mm(LxWxH) |
| Mouse Weight | 125g |
| Cable Length | 1.8 meter |
| Interface | USB |
| OS Support | Win10 / Win8 / Win7 / Vista / WinXP / Win2000 |
| Certifications | CE / FCC |