PowerColor has launched a soundcard at Computex this week, as part of its Devil range of components. This is the first foray of this well known graphics card maker into the world of PC audio. That doesn't mean that PowerColor is making a tentative step, it rather looks like the firm has dived into audio both feet forward with the PowerColor Devil HDX PCI Express sound card.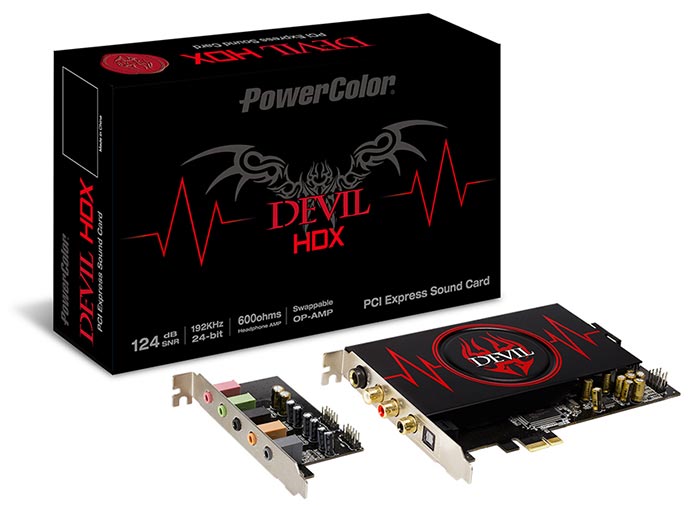 This first attempt at a soundcard from PowerColor is designed to be a high-end component aimed at the type of customer who would be interested in the rest of the PowerColor Devil range. That means high-end for gaming enthusiasts rather than Hi-Fi music aficionados or sound engineers.
PowerColor boasts that its new sound card features "crystal clear Hi-Fi audio," and is built using "supreme quality components." It has also put thought into the card layout and covered the board with an electromagnetic interference shield to minimise any background noise. PowerColor says that as a result of its component choices and design the Devil HDX benefits from an SNR of 124dB.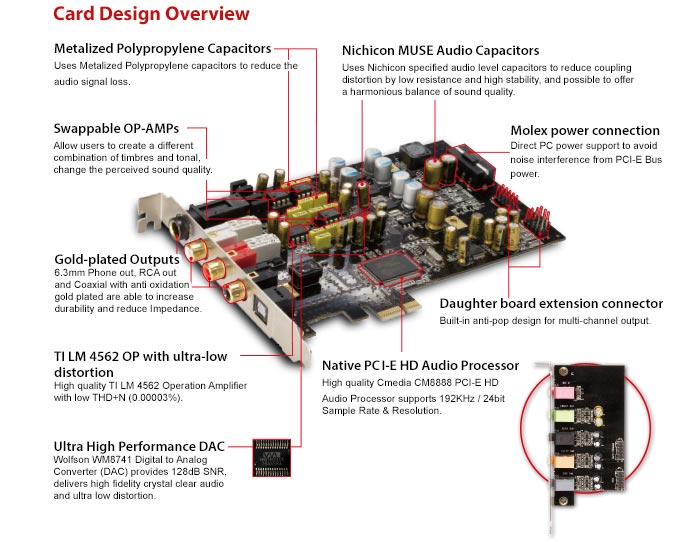 Key components of the PowerColor Devil HDX include a Cmedia CM8888 audio processor and a Wolfson WM8741 DAC. Like a growing number of premium sound cards (and even some motherboards) it is simple to change the core audio characteristics by swapping the OP-AMP installed on the board. Fresh from the box you will have a TI LM4562 OP-AMP installed.
Plenty of audio ports are present on this soundcard. There are two backplates, one on the main card, complemented by a daughterboard, both are shown below. PowerColor highlights the provision of a 6.3mm headphone jack on the main board which can drive 600 ohm impedance headphones. Users can enjoy full 7.1 sound via the daughterboard outputs.
Software support includes Xear surround sound, 3D sound and Karaoke modes plus FlexBass II. In your PC audio software you will be able to take advantage of the low latency this card offers via an ASIO 2.2 driver.
Bus Standard

PCI Express

SNR

124dB (RCA out), 120dB (6.3 Phone out)

THD+N

0.00039% (-108dB)

Frequency Response

20Hz-20KHz

Sample Rate & Resolution

44.1K/48K/88.2K/96K/192KHz @ 16bit/24bit

Connectivity

Main Board:
1 x 6.3mm Phone Out with Amplifier
2 x RCA (L/R) Jack Out
1 x Coaxial Out
1x Optical Out
1x Multi-Channel connector to Daughter Board
1x HDA (HD Audio) connector to Daughter Board or Front panel audio header
Daughter Board:
1x 3.5mm Mic-in
4x 3.5mm analog out
(front/rear/center-subwoofer/side)

Output channel

Stereo & up to 7.1 Channel

Headphone Amplifier

up to 600 ohms

Chipset

Audio Processor: High performance Cmedia CM8888 audio processor
Digital to Analog Converter : Wolfson WM8741

Dimensions (WxL)

Main board: 106 x 157 mm
Daughter board: 100 x 50 mm