VESA has officially announced that it has finalised its DockPort standard specification, an optional extension of DisplayPort interface which was first presented back in February, in a promotion video courtesy of AMD. The organisation's combined display/data/power cable and interface standard was developed with AMD in conjunction with Texas Instruments. The fully backwards compatible extension adds USB 3.1 data and DC power for battery charging abilities over a single DisplayPort connector which also carries high-res A/V data on all existing DisplayPort devices.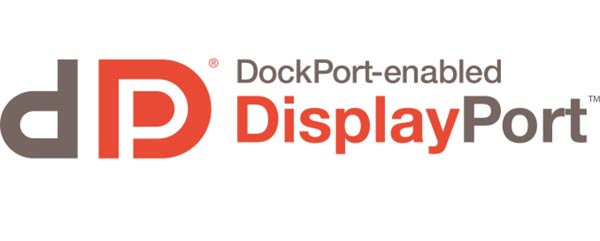 VESA also released the DockPort logo, which will be used to identify DockPort capabilities in DisplayPort devices in the future. The DockPort standard can only work when both the source and sink device are DockPort capable, but all DockPort devices can fall back to DisplayPort-only operations if not.
"As computing platforms become increasingly mobile, it becomes necessary to reduce the number of external connectors," explained Steve Belt, Corporate Vice President – Strategic Alliances & Solutions Enablement AMD, a VESA member company. "With DockPort, VESA has developed a technology standard that enhances elegant docking designs, reduces mobile form factors, and enriches the user experience with streamlined, one-cable access to a wide range of external displays, peripherals and storage."

DockPort devices on show at Computex
The industry standard is said to be the first royalty-free standard developed to combine three essential interface functions into a single connector. VESA anticipates many examples of the new DockPort standard at Computex as it can reduce system implementation cost whilst external designs of docking devices can be simplified as clutter created by various extra cables are eliminated. With the specifications in hand, device makers can begin production of DockPort cable controllers and devices. VESA states that compliance testing will be needed for device manufacturers - however the test is not yet complete at this time.
"The new DockPort standard demonstrates the enormous adaptability of the DisplayPort standard," according to VESA Board Chair Alan Kobayashi, Fellow & Executive R&D Management for DisplayPort Group at MegaChips Technology America. "On the one hand, DisplayPort is a flexible A/V transport protocol that easily coexists with other protocols, like USB—it plays nicely with others. On the other hand, DisplayPort is also a robust and proven connector design whose electro-mechanical properties can accommodate data and power over a common passive copper cable and interface."