MSI has released its first ever gaming keyboards featuring mechanical keyswitches. The new MSI GK-601 keyboard uses Cherry MX Red metal leaf non-clicky linear switches. To appeal to the gaming crowd MSI has backlighting, highlighted WASD keys and non-skid feet. Further advanced features of the GK-601 include macro configuration editor, smart hotkeys and "military grade" wiring. Yes, everything made by MSI needs some military grade components.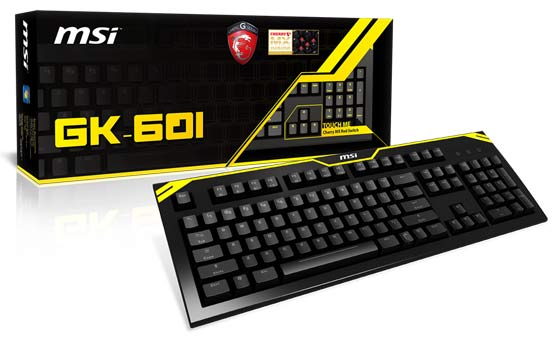 The keyboard mechanism
MSI's GK-601 uses Cherry MX Red linear switches, these keyswitches are one of Cherry's non-clicky varieties. Each key uses internal 18K gold plated contacts and N-key rollover to ensure that every key press registers. The keys are rated for 50 million individual key presses, probably more than your finger joints. Key caps have been laser etched for durability.
Gaming features and lighting
MSI has used a standard 104-key layout and some shots show the keyboard with highlighted WASD keys to help you race around your FPS environment without a stumble. The GK-601 has "a relatively rare backlight technique consisting of yellow LED with four levels of brightness". There is also a "breathing lights" option to "add a layer of mystery and tension." The Windows key can be disabled so as not to interrupt your gaming session.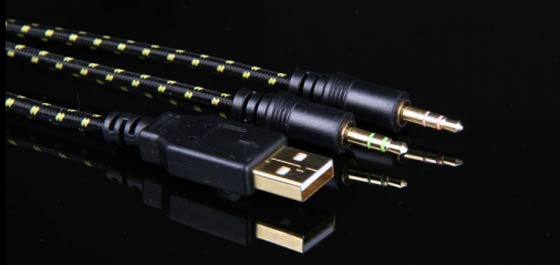 Connections
The keyboard uses "military-grade close-woven wiring" it also features two high-speed USB ports, audio out and microphone jacks and anti-skid feet.
Hotkeys and macros
MSI provides dedicated software which can store 50 macros to "perform in-game tasks at lightning speed, perform monotonous tasks with the press of a button or have pre-defined taunts ready to show your opponents why you've just beat them". The GK-601 has 128Kb of internal memory for storing macros and hot keys. As any modern keyboard should, this new gaming keyboard also features quick volume adjustment and playback controls.