Hewlett Packard has announced the worldwide release of the Officejet Pro X multifunction inkjet printer. It's a very fast desktop colour printer and is available in two forms; simply as a desktop printer or as a multi-function printer including a built in scanner with scan/copy/fax functionality. These Officejet Pro X printers owe their speed to the HP Pagewide Technology – the print head is the full width of the page so it doesn't have to shuffle around wasting time or compromising accuracy.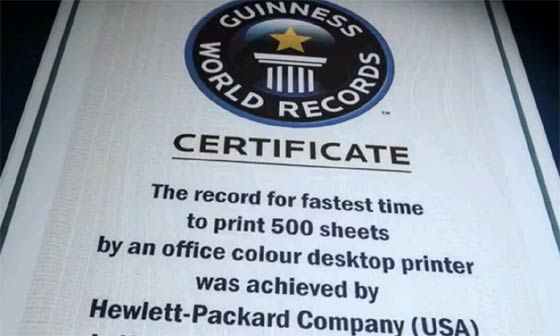 500 sheets printed in 7 minutes, 19.25 seconds
The HP Officejet Pro X series printers X551dw and X576dw were tested by the Guinness book of records officials last year using ISO 24734 sample four-page category test documents using their fastest available colour mode. The HP printers achieved a speed of 500 sheets printed in 7 minutes, 19.25 seconds. They are rated in their official specifications at a speed of 70ppm.
Running costs are lower too
HP says that the new range of printers isn't all about speed. The Pro X series also offers about "half the printing cost compared with laser printers". Quality isn't sacrificed, the printers use "HP 970 and 971 ink cartridges featuring quick-drying, long-lasting pigment inks that offer highly durable, professional print quality, and feature optimized colour mixing and paper interaction for high-speed printing".
Turning to the issue of energy consumption the Officejet Pro X series HP also claims "Energy use is reduced by up to 50 per cent compared to colour lasers". Every model in the series also offers duplex (two sided) printing functionality.
"40,000 inkjets in a stationary print head spanning the full width of the paper"
Stephen Nigro, senior vice president, Inkjet and Printing Solutions and Graphics Solutions Business, Printing and Personal Systems Group, HP said "SMB customers constantly look for ways to save money and do more with less. The new HP Officejet Pro X Series is an ideal solution that delivers professional printing at a faster rate and cheaper cost than laser printers, while generating significantly less waste."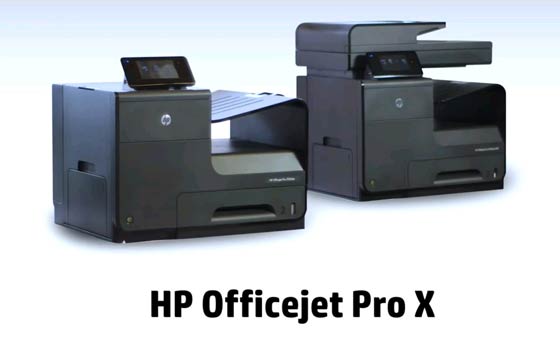 What about real-world performance?
Computer magazine Computer Shopper has had the $799 HP Officejet Pro X576dw MFP in its labs to have a look and a poke about with it. The magazine concludes its review by saying "HP's first OfficeJet based on its new PageWide inkjet technology is a slam-dunk winner for small businesses and workgroups. It's fast and prints in excellent quality at a very low cost per page. It's poised to give colour lasers some stiff competition." Those per-page prices were estimated at 2.5 cents for a mono page and 12.1 cents for a colour page. Invest in higher yield cartridges, suggests the review, and the costs can fall to 1.3 cents and 6.1 cents respectively.