A new mouse has just been unveiled by Manhattan Products. This new wireless mouse said to be "re-imagined for the tablet generation" has no buttons, no wheel and no ball. The mouse is called the Manhattan Stealth Touch Mouse with a strapline of "No Click. Just Touch".
The Stealth Mouse is operated with multi-touch gestures, taps and swipes on its surface. The body of the mouse is said to be ergonomically engineered which is helpful for such an oft used input device. Also the mouse is coated with an attractive "SilkTouch" coating so it has a nice feel in the hand.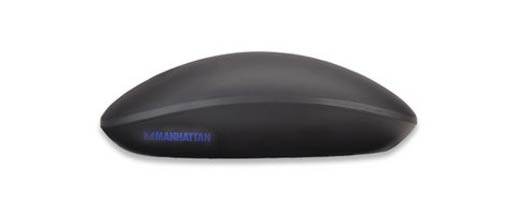 Talking of their new mouse, Manhattan gush in today's press release: "With Stealth, we wanted people to experience a whole new way to surf the web from their computer. So, we boiled the standard mouse down to its barest essentials, and then introduced bleeding-edge Curve-Touch technology that gives the user completely intuitive controls more like a tablet or smartphone than an old computer mouse." The company makes several swipes at rival mice with their old and annoying noisy clicking sounds.
Specification is as follows:
Patented Curve-Touch technology
Laser, 1200 dpi resolution
USB interface
Automatic power save mode, mouse uses 2 x AAA batteries
2.4 GHz technology offers wireless freedom with effective range up to 10 m (33 ft.)
Controls: scrolling, swiping, right and left button mouse with patented Curve-Touch technology
Ambidextrous shape
Lifetime Warranty
Compatible with Windows XP/Vista/7, Mac OS 9 and up and Linux
Mouse dimensions: 30 (h) x 60 (w) x 90 (l) mm, weight 79.4g
Nano-USB receiver dimensions: 20 x 12.7 x 1 mm
Available in North America and Europe in May, MSRP of US$69.99
Have the makers found a solution to a problem that never existed? Are you annoyed by the intense ear splitting clicking noise from your computer rodent? The mouse won an award at the DISTREE EMEA trade show in Monte Carlo in February so it must work pretty well and the US dollar RRP is only £43, not bad for such a product. It would be interesting to try the multi-touch clicking and swiping in my favourite productivity programs, though this mouse is aimed at web browsing according to the company PR. I think it's definitely a product you would have to test before buying so they will need to get it into bricks and mortar stores to sell these in quantity.