Wacom's Intuos4 graphics tablet received much praise at its release three years ago. Aside from boasting pin-point accuracy, with a large 2,048 levels of sensitivity and pen tilt detection, the tablet was one of the first to offer up a surface that felt more like working with paper than plastic, with some serious grip, making the Intuos4 one of the easiest tablets to pick up and work with.
There wasn't much, then, that Wacom could improve with its new Intuos5 line-up and so the firm has focused on usability and value-added functionality.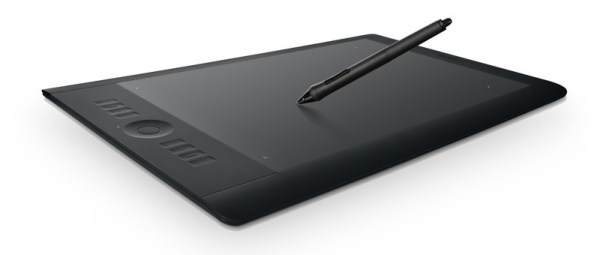 The new graphics tablets now feature a softer coating around the borders of the device, to improve upon the hand-gliding experience, offering up a more ergonomic solution. To add further value to the tablet, some tablets in the range feature multi-touch capability, allowing the tablet to double as a trackpad, which, if yesterday's Windows 8 press conference is any indication, will become more popular in the PC market over the coming years.
Other changes include the ability to insert a WiFi module to bring cable-free operation to any tablet in the line-up. Wacom has dropped the OLED displays of the Intuos4 and now focuses button feedback entirely on-screen through transparent pop-ups. Wacom has also restored the ability from past tablet devices to control the behaviour of the various pen sensitivity levels.
Backwards compatibility is maintained, with the tablet still accurate to 2,048 levels of sensitivity and pens and devices from the Intuos4 line-up all functional on the new tablet. The line-up should be immediately available in three sizes; Small (4 x 6 inches), Medium (6 x 8 inches) and Large (13 x 8 inches), priced at £200, £330 and £430 respectively. Currently there is only a single, fourth model that does NOT feature the multi-touch track-pad and that's a Medium-size tablet priced at £270 for those looking for a cheaper purchase.
For anyone looking for a larger option, Wacom recently launched its high-end Cintiq HD24, which is essentially a 24 inch touch-screen based around Intuos4 technology. Unlike its predecessors, the HD24 appears more practical and at last features a H-IPS panel display, with wide viewing angles, covering 92 per cent of the Adobe RGB spectrum with a boosted resolution of 1,920 x 1,200.