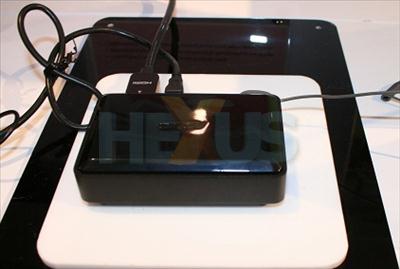 What do you think this box of tricks is? It's the ASUS WiCast EW2000 video transmitter that hooks up to your PC/notebook's HDMI port and sends the signal, wirelessly, to an HDMI-totin' display.

Provided with a mains adapter but able to be powered from the host machine's USB ports - the transmitter can pull up to 4.75W - it can spit out near-zero-latency 1080p video at a distance of up to 5m (15ft).

The range isn't quite omnidirectional but is reckoned to be fine for the living room or office - the kind of environments it's intended to be used in.

Different to the ultra-wideband technology in the ASUS Eee Keyboard, the WHDI device is likely to retail for $199 when launched in a couple of months' time.

It's a pretty cool solution if you want to push video from a laptop to a big screen, but the price may well be a sticking point for most.