Bill Gates might have had ambitions of doing away with the good ol' keyboard and mouse, but his dream of new interactions doesn't seem to have been noted by Microsoft's hardware team who continues to trot out all-new mice.
Hot on the heels of its BlueTrack technology, the hardware team has unveiled its fashionable-but-functional Arc Mouse.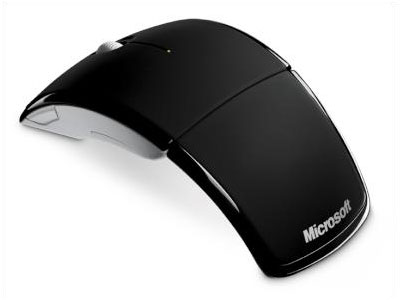 It might look like a Star-Trek phaser, but it's actually "an accessory, adding to the fashion PC trend that is taking the technology industry by storm," says Microsoft.
It certainly looks...different, but we're not sure we'd go as far as to call it fashionable. Nonetheless, looks aside, the Arc Mouse has a few useful features for those who enjoy the unusual design. The mouse measures 58.8mm x 112.78mm when in use, and its arc-shape allows it to fold for easy portable storage.
The Arc Mouse features a very small wireless receiver that will go largely unnoticed when plugged into a notebook's USB port. When done, it'll snap magnetically into the bottom of the mouse - that's a nice touch but it's worth noting that the small receiver is still larger than Logitech's existing plug-and-forget nano-receiver.
If you're worried about the arc-design collapsing, Microsoft states that its tested to hold more than 25 pounds - even the heavy-handed needn't be concerned.
The Arc Mouse is available in red and black, and will ship later this month priced at $59.95. Hideous idea, or work of art? The jury's still out on this one.
Official press release: Microsoft Arc Mouse: Where Fashion and Technology Collide
Official product page: Microsoft.com/hardware