We reported upon the announcement of USB4 back in March this year. At that time Intel revealed that the next-gen USB specification was going to be built upon its open licensed Thunderbolt 3 technology. USB4 will offer up to 40Gbps speeds, double the speed of the USB 3.2 Gen 2x2 standard (AKA SuperSpeed USB 20Gbps).
At the recent Computex show AnandTech met up with the USB Promoter Group to see how work on the USB4 specification was going. The tech site shared the good news that "the spec is in its 0.7 version and things are proceeding quickly." Furthermore, it confirmed that USB4 will be backwards compatible with existing USB Type-C devices.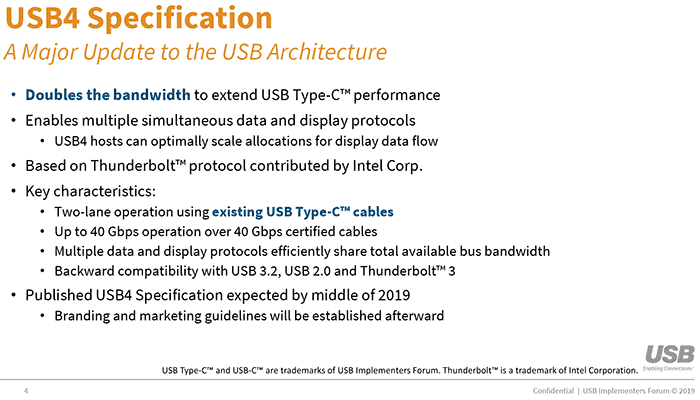 We are currently at version 0.7 in the development phase and the slide above estimates that we should have v1.0 published before summer is out. They next obvious question concerns availability of USB4 ports and devices. According to AnandTech's chat with the USB-IF, "actual USB4 supporting devices will be available by the end of 2020". Intel and partners should be pretty clued up in building the interfaces with their experience in equipping PCs and devices with Thunderbolt 3 I/O.
| | | | |
| --- | --- | --- | --- |
| Standard | Speed | New marketing name | Original name |
| USB 3.2 Gen 1 | 5Gbps | SuperSpeed USB | USB 3.0 "SuperSpeed" |
| USB 3.2 Gen 2 | 10Gbps | SuperSpeed USB 10Gbps | USB 3.1 "SuperSpeed+" |
| USB 3.2 Gen 2x2 | 20Gbps | SuperSpeed USB 20Gbps | USB 3.2 "SuperSpeed+" |
Some folk were a bit annoyed at branding and name changes for USB 3.0, 3.1, and 3.2. You can check the easy to reference table for the up-to-date naming convention and what it means for speeds above. With USB4, we hope the USB-IF can get good and clear branding right from the start. The report from Computex says that with the speed boost and extended capabilities of USB4, the promoter group is working on a new logotype and branding scheme.