Asus ROG took the wraps of the Strix Flare mechanical gaming keyboard back at CES 2018 in January. This stylish input peripheral uses Cherry MX RGB switches which are available in a variety of signature tactile 'flavours'. It isn't only the keys that offer backlighting, Asus has leveraged its Aura Sync lighting in several other zones too, including a back-illuminated customisable badge area. Elsewhere Asus would like to draw your attention to the dedicated media keys and volume wheel which it says it has positioned on the left for faster in-game control.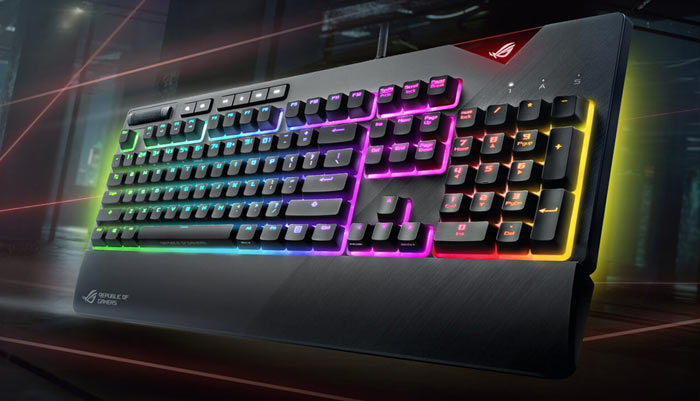 The Asus ROG Strix Flare ships with Cherry MX RGB switches. Purchasers can choose red or brown type characteristic response switches initially, however if you can wait until later in the year there will be an MX Speed Silver option too (shorter actuation distance for gamers). Other gamer must-have features like anti-ghosting tech with N-key rollover are present and correct.
If you look at the main picture of the keyboard you will see that it has a triangular section at the upper right with a backlit Asus ROG logo. That cutout is customisable with one extra blank insert supplied for your own logo creation. Asus explains that a custom cut-out sticker placed on the inside of the acrylic segment will have the desired effect - so you don't have to physically mark the insert. Two RGB LEDs light up this logo area.
LEDs glow behind all the switches, the custom logo, and from either side of the keyboard. The keyboard sides have 9 LEDs along each edge. All LEDs can be controlled by Asus Aura Sync and there are 13 effects, including new raindrop and current patterns, available.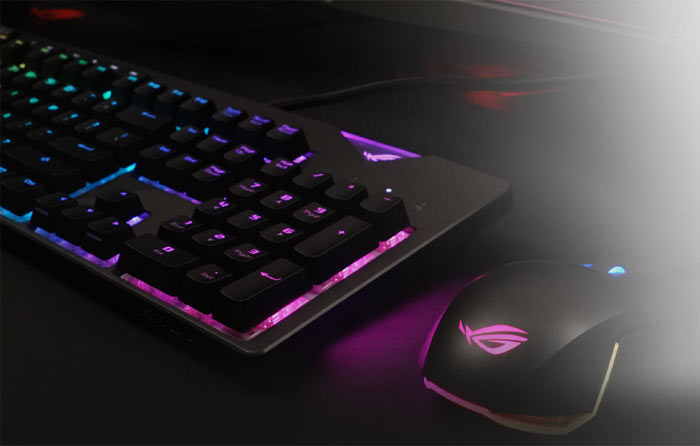 Customisation software comes in the form of the new Armoury II, and the Asus ROG Strix Flare mechanical gaming keyboard is the first Asus product to use this. It is said to be entirely driver-based and therefore offer more features within certain games which might be written to block macros, for example. While the software is said to be lighter than ever, it offers more extensive control than ever too - with adjustments to macros, lighting, and so on. A nice touch is that all settings are stored onboard the keyboard, so you don't need to run the accessory software in the background once you are happy with the functionality and settings. Some settings are adjustable using hotkeys, which further reduces the need for Armoury II.
Asus has positioned the dedicated media controls and volume wheel to the upper left of the keyboard. This unusual layout is said to offer quicker media control access for gamers - mid-game. Right handed gamers might otherwise be tempted to let go of the mouse to press the keys or make volume adjustments. Gratifyingly, the volume wheel has a click to let you know it is in the mute position.
In an email to HEXUS, Asus said that the ROG Strix Flare is available now and is priced at £159.99 MSRP.
Video focuses upon the Asus ROG Strix Flare keyboard from 3mins 55sec onwards.