Ever felt as if your PC activity was being watched by your boss?

That every time you snuck on to MSN for a quick chat when you should have been compiling boring Excel graphs was a cause for concern?

Well, you're probably right to be afraid, judging by some of the clever hardware on show at COMPUTEX, such as PLANET's IM-1000 Internet Monitor.

It can be configured to record emails, IM conversations, web-browsing, and general downloading activity.

What's more, an entire office's PC history can be recorded on to the built-in 160GB hard drive.

So the next time you quickly Alt+Tab out of a screen that you shouldn't be in and breathe a sigh of relief, chances are you may not get away with it.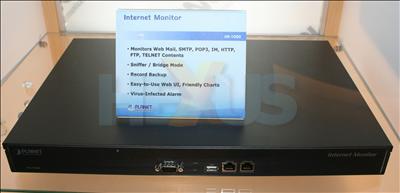 We'll come back to add product-specification links, soon. Honest!