The Wi-Fi Alliance has announced that it has begun to certify devices that are 'Wi-Fi Aware'. Wi-Fi Aware opens up proximity based device functionality without the need that there be any Wi-Fi hotspot nearby. The peer-to-peer system lets devices and apps make their presence known to other Wi-Fi Aware devices, apps and services in range. It is thought that one of the main uses of the new functionality will be to personalise the mobile experience of users coming into proximity.
It is foreseen that proximity-centric applications are going to grow significantly this year and triple next year. The new Wi-Fi Aware certification program "extends Wi-Fi's capabilities with a real-time and energy-efficient discovery mechanism that provides an immediate on-ramp to rich here-and-now experiences". A device operates on a 'heart beat' signal to keep energy use down and once an 'interesting' service has been discovered the app can initiate a full Wi-Fi connection if configured to do so or the alerted user initiates it.
Wi-Fi Aware encourages users to "discover the world nearby" thanks to enabling personalized social, local, and mobile information and interactivity. Users will be able to peerlessly share content, play games, access location information and be notified of products and services that meet their interests nearby. The Wi-Fi Alliance states that "users will be able to control privacy settings and opt-in to desired notifications." Furthermore we are told that "users can configure an application to offer and/or seek services on nearby devices, exchanging basic information without making a connection to that device." Data transmitted via Wi-Fi Aware apps can be encrypted.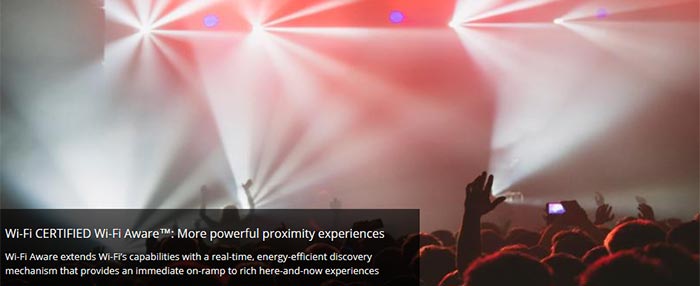 Yaniv Garty, VP and GM of Wireless Communications Solutions at Intel, praised the Wi-Fi Aware certification program and its simplified approach to location awareness. Garty explained that such functionality was desirable because "Persistent awareness to surrounding services adds an exciting new dimension to the mobile user experience and enables applications to be more social, useful, and intuitive".
Of course some of the first devices to use and benefit from Wi-Fi Aware will be smartphones. The first Wi-Fi Aware certified components include; Broadcom BCM4358, Intel Dual Band Wireless-AC 7260, Marvell Avastar 88W8897 802.11ac low power Wi-Fi combo chip, Realtek RTL8812AE 2x2 a/b/g/n/ac MiniCard.
Social networks like Facebook, Twitter and LinkedIn are expected to roll out Wi-Fi Aware apps before the year is out.