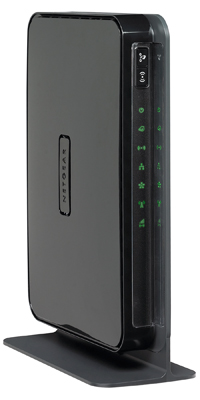 Netgear, in collaboration with Ericsson, has today announced the MBRN3300E 3G Wireless Router.
The device, pictured right, incorporates an internal 3G radio to provide mobile broadband connectivity in the home or office.
Dubbed as a solution for "locations that lack wired infrastructure", Netgear's MBRN3300E allows a user to share a 3G broadband connection with multiple devices via Wi-Fi or Ethernet. Suggesting that the product will initially be available via ISPs, Netgear has described the technology as a means for mobile service providers to "capture more revenue from new mobile broadband data customers as they discover the value and convenience of mobile internet access".
"It creates higher ARPU [average revenue per user] as customers use of mobile data accelerates and leads them to upgrade their data plans," says the company on its website.
In addition to featuring an internal 3G radio, the MBRN3300E offers 802.11n wireless connectivity, four 10/100 Ethernet LAN ports and a built-in firewall.
Although not as portable as a traditional 3G mobile broadband dongle, Netgear believes its 3G router will appeal to "semi-nomadic users" who will be able to plug-in and use the device wherever 3G coverage is available. The added functionality of the MBRN3300E 3G router will expand "the market for mobile networks into untapped applications", said the company in a statement.
The MBRN3300E 3G Mobile Broadband Router will be demonstrated at the Mobile World Congress trade show in Barcelona next week.