Almost two years ago to the day, the now-departed Pat Gelsinger demonstrated USB 3.0 at the Intel Developer Forum in San Francisco. USB 3.0 was positioned as the natural successor to USB 2.0 and promised 10x the bandwidth, at around 400MB/s after protocol overhead.

The interim time has been marked with unexpected silence and it's only recently that discussion of USB 3.0 has begun in earnest. We've seen it specified on a handful of Intel P55 chipset-based motherboards, most notably from ASUS, and implemented by means of an add-in card from a third-party vendor.

An inherent problem in widespread adoption lies with the time taken to integrate the host controllers into a chipset and, just as importantly, the provision of operating system support for the new software stack. The Linux kernel currently has USB 3.0 support, but it will be a while before Intel and Microsoft do likewise.

Speaking to Fujitsu and Texas Instruments at this year's IDF, company representatives stated that full 'Wintel' integration wasn't likely for another 18 months, at the very least.

A lack of full industry support hasn't hampered companies releasing their own host controllers and software stacks. NEC is hoping to ship around 1,000,000 host chips this month and Fujitsu has already implemented a physical layer device (PHY) into a USB 3.0-to-SATA controller, as used by the soon-to-be-available Buffalo external storage solution, pictured below.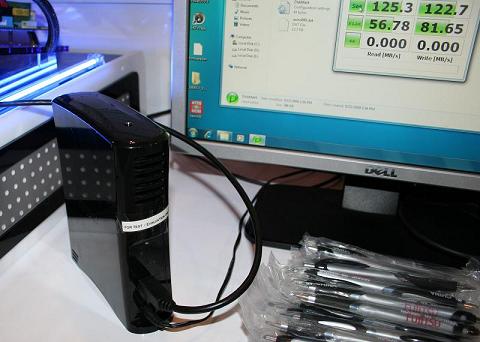 Right now, companies are paying around $10 for a host controller and a little less for the device-side chip, we were informed.

USB 3.0 has a long way to go until it becomes truly widespread, but with backward compatibility and real promise of significantly faster speeds, the onus will be on the devices to saturate the bandwidth. We can foresee a plethora of SATA-to-USB 3.0 chips being brought to market in 2010.