Ultra HD (4K) boasts an appealing set of specifications and may be as big a step forward for consumers as the step from fat old CRTs to sleek HD LCD TVs. We've had quite a few stories about the new format on HEXUS and at the recent CES there were a number of showings of 4K TVs and screens.
Ultra HD TVs are quite a rarity right now; a lot of the screens we have seen are "unveilings" of future products and technology. Engadget notes that only three Ultra HD TVs are available to buyers at this time. Matching the scarcity of the Ultra HD TVs, we have the problem of content available at 4K.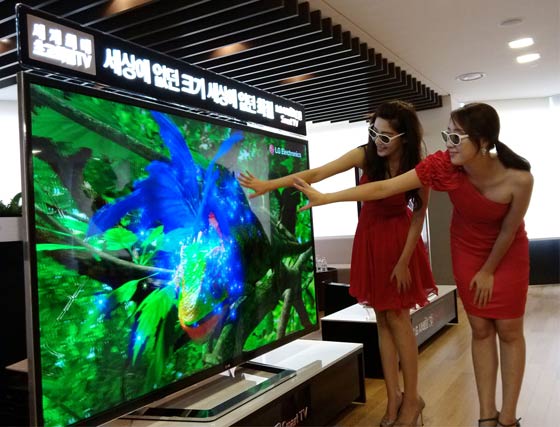 Eutelsat Communications have launched a dedicated demonstration Ultra HD channel for Europe on the EUTELSAT 10A satellite. Transmissions of content filmed in 4K are now live for your enjoyment. The company boasts that "Delivering a resolution of eight million pixels, four times the resolution of HDTV, Ultra HD (4K) is poised to mark the next big leap forward in the immersive viewing experience."
In technical terms the new channel has the following spec:
Progressive mode 50 frames per second
8 million pixels; as you would expect – four times the resolution of HDTV
MPEG-4 encoded at 40 Mbit/s in four Quad HD streams
Codec provided by ATEME
Frequency: 11304 MHz
Polarization: Horizontal
Symbol rate: 27500
DVB-S2
8PSK
FEC 2/3
Pilot ON
The 40 Mbit/s figure is double the bandwidth used by current HD broadcasts. However as codecs are refined and developed it's quite possible that Ultra HD broadcasts could use less bandwidth than 1080i does now.
We heard in November that Sony is planning to bundle a "content delivery system" with its XBR-84X900 84in 4K TV to solve the content conundrum. This system, it has since been revealed, is a "hard-disc server" Sony will loan you containing the following movies: The Amazing Spiderman, Total Recall (2012), The Karate Kid (2010), Salt, Battle Los Angeles, The Other Guys, Bad Teacher, That's My Boy, Taxi Driver, The Bridge on the River Kwai. This offer is exclusively for US customers.