Gigabyte Aorus launched a couple of interesting new gaming monitors taking rather different approaches, for different gaming market segments. The headlining monitor, the Aorus CV27F, has a 'super immersive' curvature of 1500R, and uses a 27-inch FHD VA panel with 1ms (MPRT), 165Hz refresh rate and FreeSync 2 HDR tech. The second monitor launched just ahead of the weekend is the flat screen Aorus KD25F, made for FPS gamers and boasting a 24-inch TN panel with a response time of 0.5ms (MPRT), along with a 240Hz refresh rate. Both these monitors are dubbed 'Tactical monitors' by Gigabyte as they ship with a common set of special gaming and multimedia features.
Tactical features
Black Equalizer:Brightens up the dark parts in the picture for better visibility in dark areas.
Aim Stabilizer:This feature will help you reduce the blurriness of the recoil effects while you are shooting in an FPS game. It can also help you trace moving enemies much easier.
GameAssist:This is a kit of OSD functions that helps you in game. It includes a customizable crosshair, a counter, a timer, and multi-screen alignment lines.
Aorus Dashboard:We can display hardware information directly on screen, such as mouse DPI and GPU/CPU information.
OSD Sidekick:You can now control the monitor through this software and control your OSD with mouse and keyboard. A much easier way to adjust your monitor.
Active Noise Cancelling (ANC):When you plug your mic into the monitor, it can help you cancel the noise around you. The only thing that goes through the mic when you are communicating with your teammate is your voice.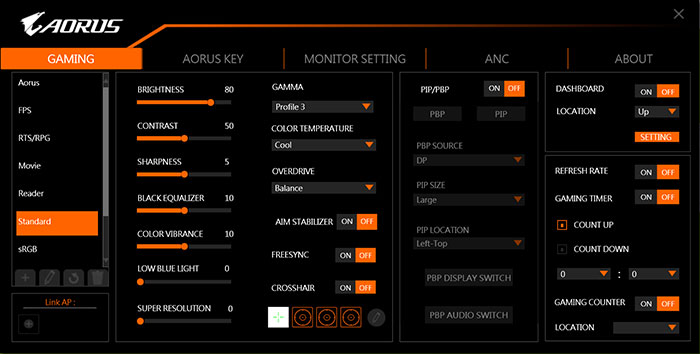 Aorus CV27F
This 27-incher has a pronounced 1500R curvature. According to Gigabyte this feature delivers greater immersion as "1500R is more similar to the natural curve of the human eye". Other compelling features of this 27-inch FHD VA display are; 1ms (MPRT) response time, 165Hz refresh rate, along with 90 per cent DCI-P3 and 8 bit colour, 400cd/m2 max brightness, 3000:1 contrast ratio, AMD Radeon FreeSync 2 HDR technology with low framerate compensation.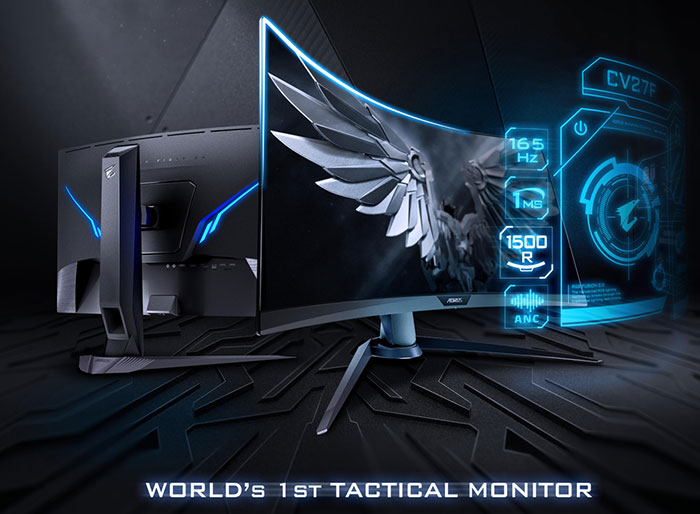 Gigabyte supplies the Aorus CV27F with a stand that provides a range of height, tilt, pivot, stroke, and swivel adjustments. RGB lighting is featured in a wing shape on the back of the monitor. Furthermore, it is good to see the power supply built-in, so there isn't a bulky adaptor dangling somewhere. For port choices you have 2x HDMI 2.0 and 1x DP 1.2, plus 2x USB 3.0. You can charge your phone (5V/1.5A) from this monitor too. An official product page with full specs is available now.
Aorus KD25F
This traditional 24-inch monitor goes all-in on speed. It is claimed to offer a response time of 0.5ms (MPRT), along with a 240Hz refresh rate via its FHD TN panel. Gigabyte is quick to address image quality concerns that are often a knee-jerk response to those two letters (TN). It says that the Aorus KD25F features a 100 per cent sRGB gamut "which is really rare for a TN panel". Max brightness is 400cd/m2, and contrast 1000:1 typically.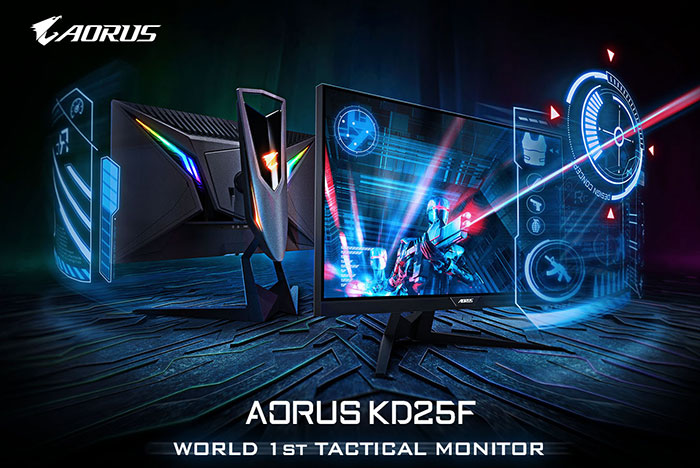 Moving on to other features, the KD25F shares the same design as the "World's First Tactical Monitor AD27QD" with digital LED lighting, the full function stand, frameless design, a built-in power board, and more.
The Aorus KD25F supports 2x HDMI, 1x DP, 2x USB 3.0, (again with USB charging), a microphone jack and an audio jack. If you are interested, please check out the official product pages, and specs pages.