AMD's hotly-anticipated release of its next-generation microarchitecture - codenamed Barcelona - was scheduled to coincide with COMPUTEX 2007.

Launched as a server SKU in the first instance, the Phenom was dual- and quad-core done right, it said.

Trouble is, Phenom is phenomenally late. You won't see the S1207+ parts until the very back end of this year. AM2+ models may even be later still, so what's AMD to do in the interim? There's the Radeon HD series, of course, but that's old news.

Supporting the Phenom's HyperTransport 3.0 and scheduled to be the performance partner for the high-end CPUs in both S1207+ and AM2+ flavours, AMD has decided to significantly pull in the release dates for its RD790 chipset, and here it is, courtesy of GIGABYTE.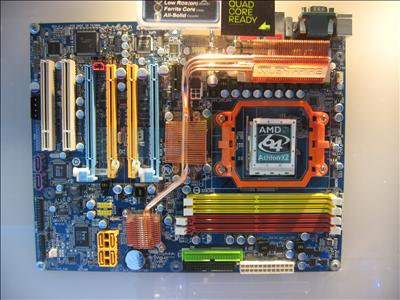 The GA-M790-DQ6 features AMD's RD790 and SB600 chipset combination. You'll note the four PCIe x16 slots for, potentially, quad-CrossFire (drivers permitting, of course) and/or massive multi-monitor support. It remains a DDR2-supporting chipset, however.

GIGABYTE reckons it will support upcoming AM2+ processors, characterised by the dual- and quad-core K10 architecture that offers split-plane voltage regulation.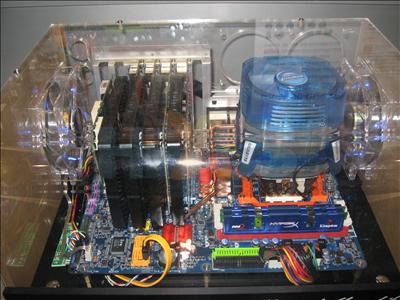 GIGABYTE had four Radeon HD 2600 XTs - Gigabyte's own RX26T256H, incidentally - packed into the slots. Unfortunately, no quad-CrossFire demonstrations were forthcoming. Perhaps we'll have better luck tomorrow.