The high speed Thunderbolt I/O interface has been relatively slow to come to PC desktops with Apple users getting their well manicured hands on it first over a year ago. The interface, twice as fast as USB 3.0, is meant for high performance bandwidth hungry components and has found favour in the last year with suppliers of external storage and displays. The number of Thunderbolt peripherals is going to grow more quickly with the interface becoming more widespread.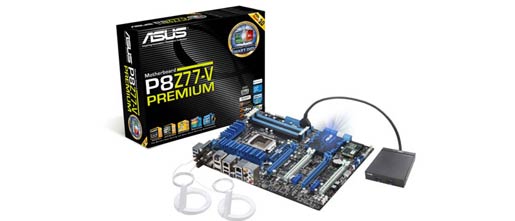 MSI had a Thunderbolt enabled motherboard under the spotlight about a week ago and now we have news of motherboards coming from ASUS featuring this modern I/O standard. The models announced are called the P8Z77-V PREMIUM and PRO motherboards. The boards feature just one Thunderbolt port but the interface allows daisy chaining of up to 6 devices.
The new ASUS P8Z77-V PREMIUM and PRO motherboards are based upon the latest Intel Z77 chipset which support Sandy Bridge and Ivy Bridge CPUs. These are undoubtedly high-end boards, looking at the features, the PREMIUM has 4 PCIe x16 slots, 2 gigabit LAN ports, 6 USB 3.0 ports and a 32Gb caching SSD onboard. Check the table below for the full specification of both motherboards.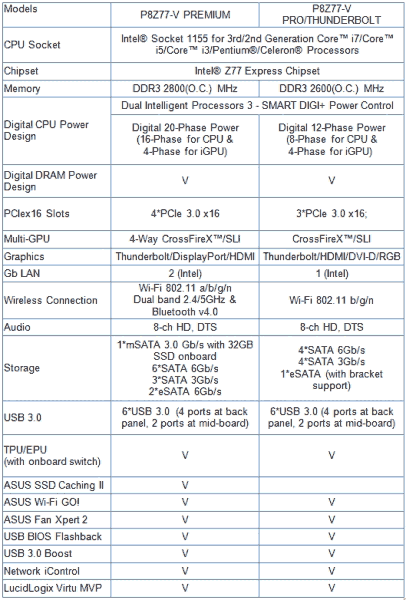 Intel Director of Thunderbolt Marketing, Jason Ziller, said of the new ASUS Thunderbolt motherboards "Intel and Asus have worked closely on the implementation of Thunderbolt technology onto their motherboards. It is our pleasure to state the P8Z77-V PREMIUM is the first Thunderbolt certified motherboard in the industry, a testament to its solid design and compatibility." There are no details of board prices or dates upon which the new motherboards will be available but cnet guesstimate an end of June release.