Gigabyte has plenty of Z77 motherboards on show at CeBIT 2012, but the one that's missing from the show floor is arguably the most interesting.
It's called the G1.Sniper M3, and it's a microATX gaming motherboard that will compete against ASUS's Maximus V Gene.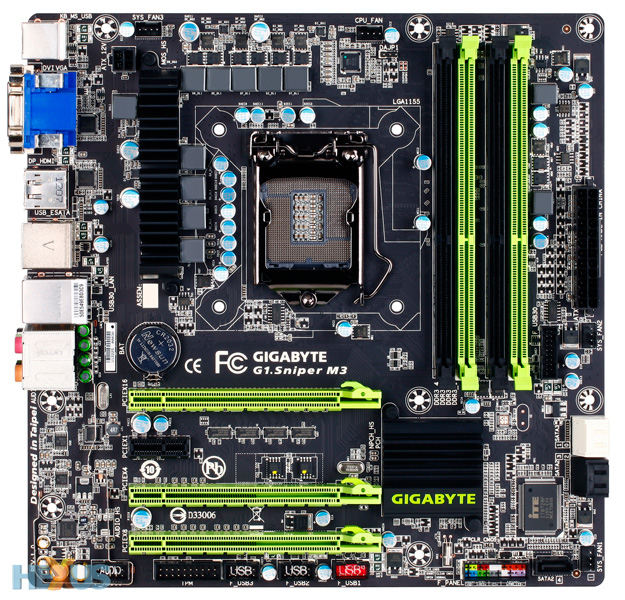 In keeping with the G1 Series colour scheme, the Sniper M3 will be finished in black with green highlights and certainly has that gamer look and feel about it.
Gigabyte has told HEXUS that the board's design and feature set could be subject to last-minute changes - hence the lack of a display model at CeBIT - but these images reflect a near-final specification that's tailored for the gaming market. Four PCIe slots are available and these are configured as two x16 3.0 slots, one x16 2.0 slot and a single x1 2.0 slot.
We understand the board supports both CrossFire and SLI multi-GPU configurations, and there's a good amount of room between the two PCIe 3.0 slots.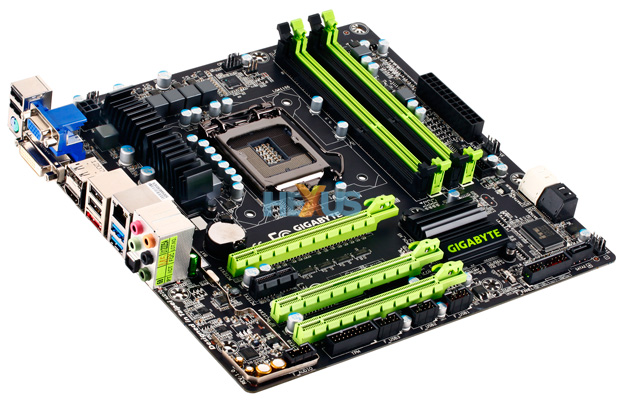 In terms of storage, the G1.Sniper M3 offers just five SATA ports - three are SATA 3Gbps ports and two adhere to the SATA 6Gbs standard.
The feature set could be deemed a tad light for a high-end gaming board, but a couple of PCIe 3.0 lanes and five SATA ports should be more than sufficient for most users, and Gigabyte's decision to reign in the specification should hopefully lead to a more-palatable price tag.
Elsewhere, the Z77 board has an integrated Creative Sound Core3D audio processor, headers for six USB 2.0 ports, an onboard USB 3.0 connector, and a quartet of four-pin fan headers.

The I/O panel, meanwhile, provides a good selection of video outputs (VGA, DVI, DisplayPort and HDMI), as well as eSATA, four USB 2.0 ports, two USB 3.0 ports, optical audio and Intel-powered Gigabit Ethernet. Gigabyte appears to have opted against a Killer NIC Ethernet solution this time around, and the board is missing a couple of overclocker-friendly features - including dedicated power and reset buttons, and a rear-mounted clear CMOS switch.
This early glimpse suggests that Gigabyte's board may not go toe-to-toe with some of the extreme mATX competition, but if the price is right, the G1.Sniper M3 could become a popular choice for mid-sized Ivy Bridge builds.