With all the big-name motherboard manufacturers preparing to let loose their P55 offerings next Tuesday, the likes of ASUS, GIGABYTE, MSI and others are looking for ways to best differentiate from one another.
In the case of Taiwanese manufacturer ASUS, it's opting to detail some new additions to its Xtreme Design philosophy - including what it calls Hybrid technology.
Hybrid Technology is set to feature on all of ASUS' P7P55D-series motherboards, and it consists of three key components - Hybrid Processor, Hybrid Phase and Hybrid OS.
Hybrid Processor, as the name suggests, is a dedicated on-board microprocessor used to provide enthusiasts with useful overclocking tools such as automatic overclocking via Auto System Level Up and real-time tweaking via TurboV Evo.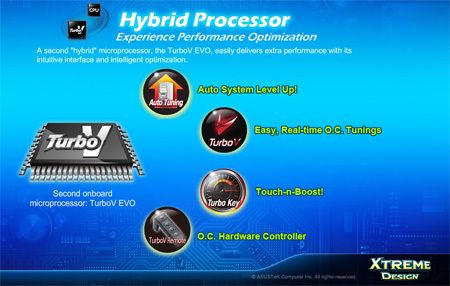 ASUS' Hybrid Phase, meanwhile, makes use of a dedicated T-Probe microchip to automatically switch power phases depending on real-time load and temperature, in theory increasing system stability. Last but not least, Hybrid OS allows users to boot into either a traditional OS such as Microsoft Windows, or ASUS' own Express Gate - which, of course, provides near-instant access to everyday tasks such as instant messaging and web browsing.
Convinced that its feature set is unsurpassed, ASUS has created an entire page at asus.com to showcase its Xtreme Design principles - including a closer look at its Hybrid technology. There's even a video promo for ASUS' automatic overclocking feature:
It's no doubt an impressive long-term feature set, but is it as convincing as MSI's 55 per cent discount in the interim?