Every once in a while you'll get a manufacturer who decides to go out on a limb and produce something truly stupendous. Thermaltake's Level 10 chassis and ASUS' ROG MARS graphics cards being prime examples.
Today, it seems to be the turn of California's EVGA Corporation, who is officially launching the world's first 4-way SLI capable setup in the form of the EVGA GTX 285 Classified graphics card and the X58 Classified 4-Way SLI motherboard.
The board, pictured below, is an X58 offering that's about as extreme as they come. In addition to EVGA's usual array of high-end features - including a 10-phase digital PWM and EVbot support - it sports a total of seven PCIe slots, allowing for a mind-boggling 4-way SLI configuration.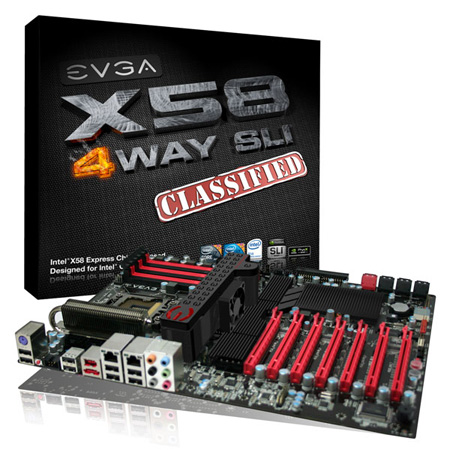 In order to make such a configuration possible, the board sports two of NVIDIA's NF200 chips, and knowing that everyone who purchases the board will do so four 4-way SLI action, EVGA throws in a 4-way SLI bridge as standard.
There are a few drawbacks, however. Most notably, the board's array of PCIe slots makes it bigger than your average ATX solution. The EVGA X58 Classified actually measures 342.9mm x 261.6mm, putting it into what EVGA calls the XL-ATX form factor.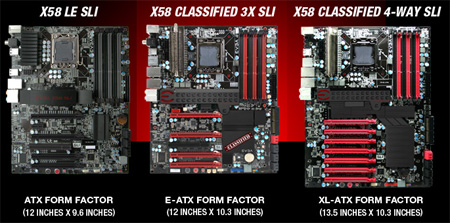 For 4-way SLI configurations, EVGA recommends a chassis with 10 expansion slots - and we're willing to bet the majority of readers don't have one of those.
Unfortunately, the bad news doesn't stop there. EVGA tells us that 4-way SLI is only available with four of its GTX 285 Classified graphics cards - each equipped with a special jumper that makes a four-way-GPU setup possible.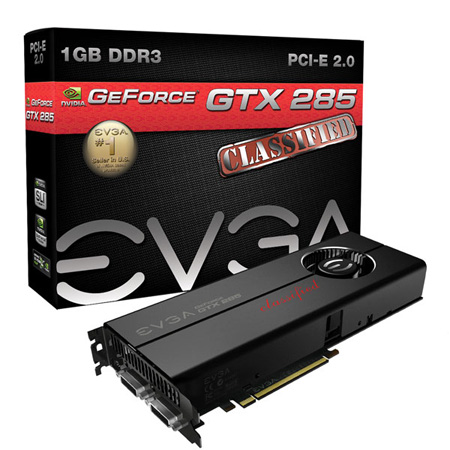 It's an enthusiast's wet dream, but the entire setup - consisting of an X58 Classified board ($449.99) and four GTX 285 Classified graphics cards ($379.99 each) - will set you back roughly $1,970. Still, it'd be fun to throw in a Core i7 975 and run some benchmarks, it might even run Crysis.