We see just about every manufacturer trying to differentiate its boards by offering a couple of unique features, but Albatron's really going out on a limb with its all-new K3780E - a board that literally comes in two parts.
According to the Taiwanese manufacturer, many of its customers have their own requests when it comes to an I/O interface, and a board's design is rarely a one-size-fits-all scenario. What customers really want - and system integrators in particular - is a board where the I/O interface can be adjusted as needed.
That board is the K3780E. Pictured below, Albatron's unique offering comes as a combination of two boards - one featuring all the I/O parts, and another system board sitting on top.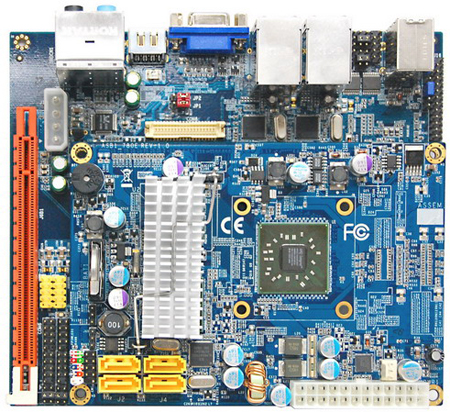 The K3780E's system board, pictured above on top of the larger I/O board, makes use of AMD's 780E north bridge - complete with ATI Radeon HD 3200 graphics - and an SB710 south bridge. There's support for a single or dual-core AMD ASB1-series embedded processor, and the board measures 146mm x 102mm.
That system board then clips on to a larger I/O board. Albatron's reference I/O board measures an unusual 170mm x 147mm, but given the flexibility of the design, it can be resized to suit mini-ITX, ATX or literally any form factor.
Albatron reckons changing only the I/O board can save time and costs, and it's K3780E reference design features the following specification:
| | |
| --- | --- |
| Model | K3780E |
| Chipset | AMD 780E/SB710 |
| Processor Support | Onboard ASB1 Series Processor |
| HTT | Hyper Transport 800 MHz to 1.6GHz |
| Memory | 2 x DDR2 SO-DIMM 667/533/400 MHz (Dual Channel) |
| Onboard Graphics | ATI M72-based Graphics Engine (HDMI / D-Sub / LVDS) |
| Slot | 1 x PCI-E 2.0 x 16 slot (8X) |
| Storage | 4 x SATA II 3Gb/s Channels,1*ATA 100 Channel |
| RAID | SATA RAID 0, 1,10 |
| COM Port | 6 x COM Port (6 ports by optional cable) |
| Audio | Realtek 5.1 Channel HD Audio |
| LAN | Realtek Gbit Dual LAN |
| USB | 4 x USB 2.0/1.1 Ports |
| Form Factor (System Board) | 3.5"(146mm*102 mm) |
| Form Factor (I/O Board) | 170mm*147mm |
| Application | POS, Digital Signage, NAS, Gaming, Media Center |
The K3780E's certainly unique, and it'll be interesting to see if Albatron's initiative gathers much interest. What do you think, readers? Is splitting the I/O and system components a logical step forward? Share your thoughts in the HEXUS.community forums.