Motherboard partners have been finding CeBIT a hard sell, not helped by the lack of really new hardware on the market. There are a few AMD AM3 boards dotted around the show floor, sure, but the most-anticipated mainboards remain the P55 chipset, providing support for Intel's next-generation Nehalem-derived desktop chips.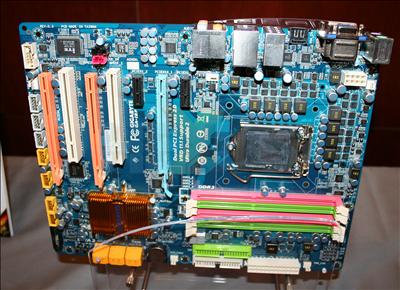 Here's the Gigabyte GA-IBP, based on said chipset. The board should be available to buy around the June/July time-frame, just when the Core i5 chips are out, according to the representatives we spoke to.

Core i5 can be thought of as incumbent Core i7 on a diet; stripped of the QPI interconnect and the third memory-channel, for starters. That should make supporting motherboards cheaper to produce, and we were quoted a price of $150 (US) for a mid-range P55.

Note the one-chip I/O and DVI output on the back? This board will be compatible with 45nm Lynnfield and 32nm Clarksdale (w/IGP), we were told, so expect some reasonable chipset longevity out of P55.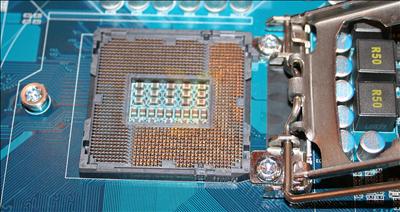 We hadn't seen an LGA1156 socket up close and personal before, so here it is, and it's a fair chunk smaller than the Core i7 equivalent. Not too sure about how it secures into the socket area, though.

Cheap Core i5, plus board, plus 4GB dual-channel DDR3 should set you back just over £300 in August. Sound tempting?