GIGABYTE's flagship P45 motherboard, the GA-EP45-EXTREME, was showcased in a live demonstration for the first time at COMPUTEX '08.
The board, pictured below, is aimed at the overclocking enthusiast and supports Intel 45nm CPUs (with a FSB of up to 1600MHz) and DDR3 memory.
You'll immediately notice that it features a Hybrid Silent-Pipe cooling system, GIGABYTE claims it'll use "the natural convection of air inside and outside the chassis to dramatically and noiselessly cool down the north bridge, south bridge and CPU MOSFETs without the use of a fan."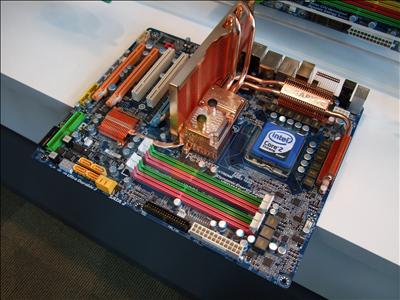 You'll be losing a PCI slot thanks to the protruding radiator, but there's two 16x CrossFire-capable PCI-E 2.0 interfaces and its easy-to-use water cooling setup will be welcomed by most.
The impressive cooling design is coupled with GIGABYTE's array of new features. The GA-EP45-EXTREME implements the latest Dynamic Energy Saver Advanced technology, which GIGABYTE claims will drop your CPU down to one phase during very light use.
There's also TPM support, which GIGABYTE has extended and re-badged as "Ultra TPM" - new functionality includes the ability to have your encryption key stored on a USB drive.
Throw-in dual Gigabit LAN, debug LEDs and support for Dolby's new Home Theatre sound, and you've got a more than healthy feature-set.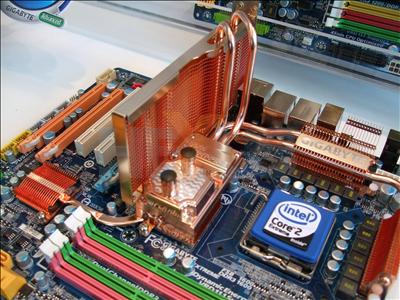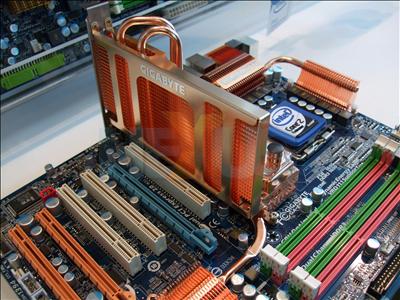 There's no shortage of P45-based motherboards in store for 2008, but GIGABYTE is offering a hugely competitive feature-set that'll be welcomed by most.