Gigabyte's aiming the GA-EG45M-DS2H micro-ATX motherboard at the home theatre market, it seems.

Packed with upcoming G45 chipset, which includes the X4500HD IGP, the motherboard supports the DX10 API in hardware, albeit with no current software support.

On a more pertinent note, the GPU helps to process the computationally-expensive load of decoding of high-definition content - VC1 and H.264, in the main. This will help when playing back Blu-ray films at their native 1080p resolution.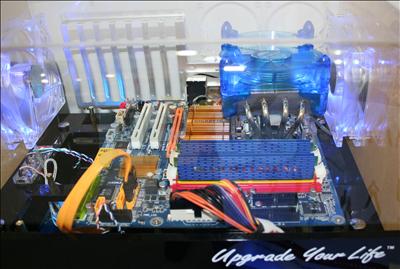 .


The board also supports HDMI and DVI outputs, with HDCP capability, of course, and the no-frills nature of the design, bereft of cost-adding extras that are found on the majority of full-ATX-sized motherboards, is a sensible move.

We really hope that Gigabyte can market the board at, say, £65, allowing users to pair it up with a low-power LGA775 processor, ensuring that it can compete against AMD's all-singing 780G chipset.