Expreview.com has managed to get its hands on what appears to be leaked Intel slides, detailing the semiconductor manufacturer's forthcoming enthusiast chipset, X58.
The chipset, pencilled onto Intel's roadmap for Q4 '08, looks set to be the first to support quad-core Bloomfield processors, based on its 45nm Nehalem architecture.
Bloomfield, a 45nm quad-core processor for the LGA 1366 socket, will provide eight processing threads with simultaneous multi-threading and 8MiB of shared L3 cache.
If indeed these slides are to be believed, motherboards based on Intel's X58 chipset will support Bloomfield CPUs and feature a tri-channel integrated DDR3 memory controller, complete with the Intel QuickPatch interconnect that'll do away with the age-old FSB. There will be four PCI-E 2.0 slots, supporting 2x16 or 4x8 configurations, and seven additional SSE4 instructions.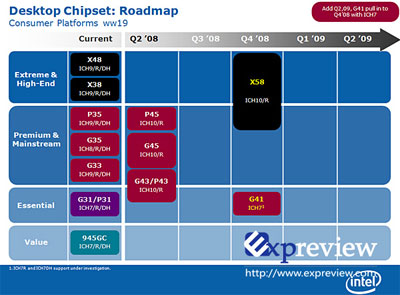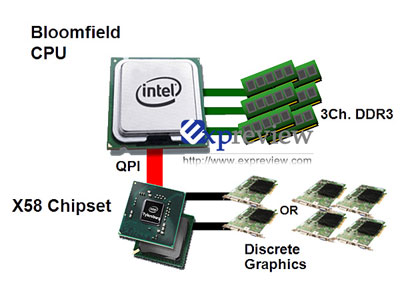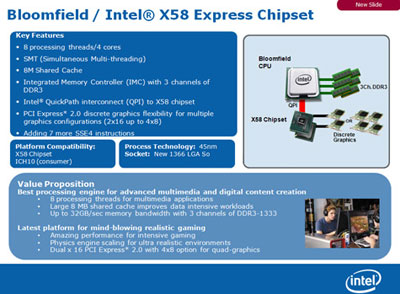 We haven't had the chance to see any raw performance figures just yet, but we have seen a sample Bloomfield-based system running at 3.20GHz. We're expecting Bloomfield chips to ship at up to 3.6GHz by the end of the year, and with Nehalem-based CPUs core-scalable from two to eight execution cores, expect to see noteable increases in multitasking performance throughout '09.
Related reading
Intel Nehalem CPU running at 3.20GHz, right now
Intel's upcoming Penryn and Nehalem processors unmasked. Integrated memory controllers and CPU-mounted graphics