The market for motherboards with integrated graphics is heating up significantly for both Intel and AMD CPUs.

AMD is already shipping its 780G solution that supports its range of CPUs. NVIDIA is playing both sides with its upcoming MCP78 (nForce 750i SLI) and MCP7A chipsets.

What's cool is that both companies will carry DX10-compliant IGPs. These SKUs score around 1,500 marks (AMD) and 1,100 (Intel) in 3DMark06's default tests.

So what's Intel doing to bolster its mediocre IGP line-up?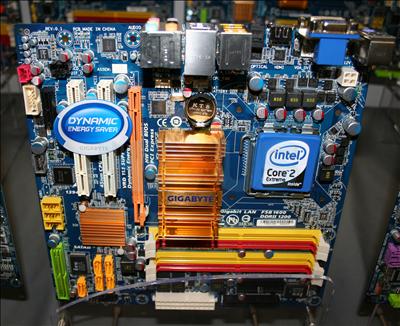 The answer comes in the form of the G43 and G45 chipsets that feature the GMA X4500 and X4500HD GPUs.

Released in around three months' time and competing directly against NVIDIA's MCP7A, the G4x need to be good.

Word from Gigabyte is that the G45's X4500HD is rather good. It supports DX10 in hardware, albeit with driver-support conspicuous by its absence.

However, representatives were keen to point out that it scores around 1,100 in 3DMark06 and also hardware-decodes H.264 and VC-1 content, much like the competition.

Natively supporting DisplayPort, HDMI and DVI, the feature-set is good, too. The northbridge is paired up with the all-new ICH10(R) southbridge that adds, on cursory inspection, just a couple of additional SATA ports.

Finally a decent IGP from the chip giant? It seems so, albeit with no possibility of hybrid support in conjunction with a discrete card - inexpensive or otherwise.