Power savings of up to 70% say Gigabyte
Energy saving is all the rage these days, and rightfully so. Not wanting to miss out on the "Look, we're green too!" spotlight, Gigabyte has launched its range of Dynamic Energy Saver motherboards with the tag line "One Small Click for Man, One Giant Leap for Mankind".
The Dynamic Energy Saver motherboards, including X48, X38 and P35 models are as follows:
X48 Models
GA-X48T-DQ6
GA-X48-DQ6
GA-X48-DS5
X38 Models
GA-EX38-DS4
P35 Models
GA-EP35-DS4 / GA-P35-DS4 (rev. 2.1)
GA-EP35C-DS3R / GA-P35C-DS3R (rev. 2.1)
GA-EP35-DS3P / GA-P35-DS3P (rev. 2.1)
GA-EP35-DS3R / GA-P35-DS3R (rev. 2.1)
GA-EP35-DS3 / GA-P35-DS3 (rev. 2.1)
Johnson Lin, CEO of Gigabyte United Inc. said:
"With more than one year of intensive design and testing, GIGABYTE's Dynamic Energy Saver represents a truly amazing revolution in motherboard development. With one little click, users are able to take advantage of up to 70% CPU power savings without sacrificing computing performance. Imagine the potential for power savings on a global scale if every motherboard in the world was able to provide similar power savings."
Featuring advanced proprietary software and hardware, the new motherboards are said to achieve power savings of up to 70% and up to 20% improved power efficiency.
With it's multi-gear power phase design, Gigabyte's Dynamic Energy Saver efficiently switches power phases depending on CPU workload. By switching down a gear or two and turning off the power phases that aren't needed, Gigabyte's Dynamic Energy Saver is said to save up to 70% more power than traditional motherboards. When CPU workload increases, Dynamic Energy Saver will automatically shift gears and turn on power phases as required.
As a handy little addition, the Gigabyte boards come complete with a Dynamic Energy Saver User Interface which allows users to see CPU power consumption in real-time as well as being able to turn Dynamic Energy Saver on/off at the click of a button.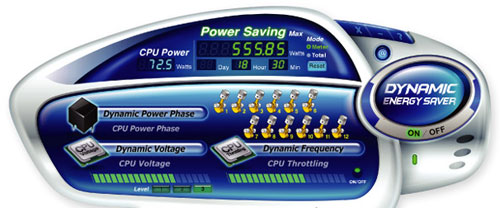 Though Gigabyte claim very impressive power saving figures, we'll be interested to see if the boards do save as much power as Gigabyte suggest.

Official press release: GIGABYTE Launches Full Range of Dynamic Energy Saver Motherboards
Official product website: Gigabyte.com