A fortnight ago we saw a Star Trek: Into Darkness video clip trailer teasing an upcoming "unique notebook" from Acer. The video didn't reveal a lot of details except what the notebook looked like, more or less, and that it would be designed to be used with Windows 8. The reveal event was in New York on Friday and Acer unveiled the Aspire R7 and also the less radical Acer Aspire P3 Ultrabook convertible.
Acer Aspire R7
Acer calls the R7 "The notebook designed for touch". The USP (unique selling point) for this computer is the Ezel hinge. "The patented Ezel™ hinge provides the right resistance at the right time so you can easily convert the Aspire R7 Series with just one hand and the touchscreen stays nice and still when you tap and scroll with your fingers," says Acer.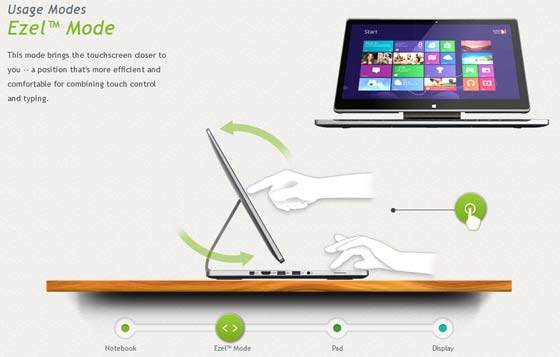 An interactive diagram on the product page shows the Aspire R7 used in four modes; Notebook, Ezel mode, Pad and Display mode. Notebook mode is just as you might expect, except the laptop touchpad is behind the keyboard. In Ezel mode the screen pivots forward obscuring the touchpad so the keyboard and touchscreen are used together. In pad mode the screen lies at a slight incline and you can use the Aspire R7 as a tablet/slate, finally display mode shows other people your screen – like some kind of presentation/theatre mode.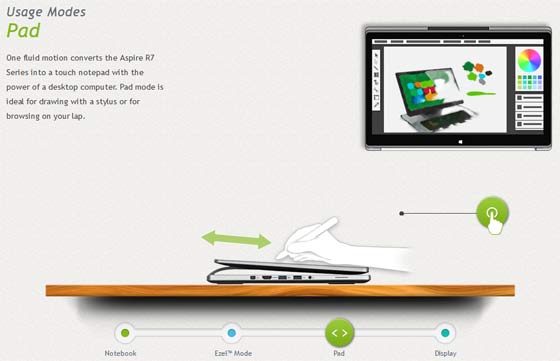 The spec for the Aspire R7 is as follows: Intel i5 processor, 15.6-inch full-HD touchscreen, 6GB RAM, 500/24 SSHD storage, backlit keyboard. Ports include; HDMI port, SD card reader, audio jacks, three USB ports, Wi-Fi, Bluetooth and a VGA, RJ45 and USB converter port. The laptop boasts a premium sound system with Dolby Home Theatre v4 and four 8 watt speakers.
For now the Aspire R7 is going to be available only in the US, available through Best Buy for $999, with shipping starting on 17th May.
Acer Aspire P3, an Ultrabook?
A less radical design presented by Acer on Friday was the Acer Aspire P3 Ultrabook. This is an 11.6-inch 1366x768 pixel screened "Ultrabook convertible". The P3 can be configured with a choice of Core i3 or i5 processors. The keyboard case can be detached so it will function simply as a normal tablet and there is an optional stylus. So while it's called an Ultrabook, it really seems to be just a tablet with a keyboard cover thrown in.

Additional specs include a choice of 2 or 4GB of RAM, 60 or 120GB of SSD storage, Intel HD 4000 graphics, 1 USB 3 port and a micro-HDMI port. The P3 also has front and rear facing cameras; the front camera is capable of 720p video and the rear cam offers 5MP.
The promo video above focuses on music and Acer is bundling Virtual DJ Acer Edition "worth $79" with all Acer touch products. The Aspire P3 is quoted as having a starting price of $799 in the US and £599 in the UK.