Been patiently waiting for HTC to make its debut in the burgeoning tablet market? Fear not lovers of all things Sense as the manufacturer has used the MWC stage to unveil its first-ever tablet, the aptly titled "Flyer".
The 7in aluminium unibody slab, pictured above, will feature Google's Android 2.4 (Gingerbread, not Honeycomb) operating system and a new spruced-up layer of HTC's Sense overlay. The latter is said to be optimised for tablet use and will introduce a couple of new user experiences - including HTC Watch, a video streaming service, and a cloud-based mobile gaming service powered by OnLive.
Sounds interesting, but what HTC fans of old are going to like is that the Flyer will attempt to resurrect the seemingly-forgotten stylus. The tablet's 7in, 1,024x600 resolution display will offer all the usual capacitive touchscreen goodness, but will also come accompanied by a battery-powered, pressure-sensitive stylus that should make light work of note taking and general doodling. Going a step further, HTC is also touting a stylus-based feature dubbed Timemark that lets you capture the audio of a meeting in line with your written notes - a lot like a LiveScribe smartpen.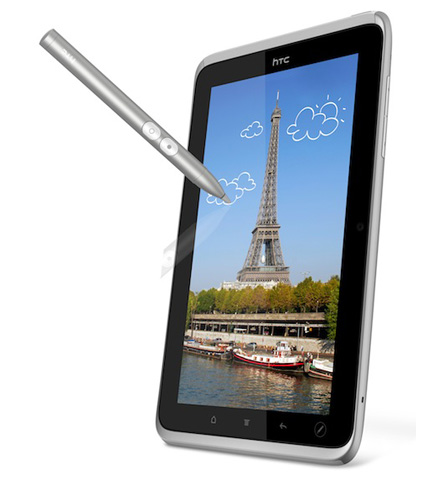 All this is powered by a 1.5GHz processor, 1GB of RAM and 32GB of internal storage (plus a microSD expansion slot). HTC includes a micro-USB port and all the usual sensors - ambient light, accelerometer, compass - as well as GPS, Bluetooth, Wireless N and HSPA. Hoping to keep a step ahead of the competition - i.e. Apple's iPad - the Flyer also squeezes in a 1.3 megapixel front-facing camera and a 5 megapixel auto-focus shooter at the rear.
That's a tasty set of features, but there's no mention of pricing just yet. What we do know is that the HTC Flyer will be shipping globally in 2011's second quarter.