Following a foray into complete computer systems with its Phobos desktop early in 2009, budding astronomers (or indeed Greek mythologists) may have guessed that Deimos would follow shortly after.
Turns out we had to wait some ten months, but without further ado, BFG has today taken the wraps off Deimos - an ultra high-end 18.4in notebook.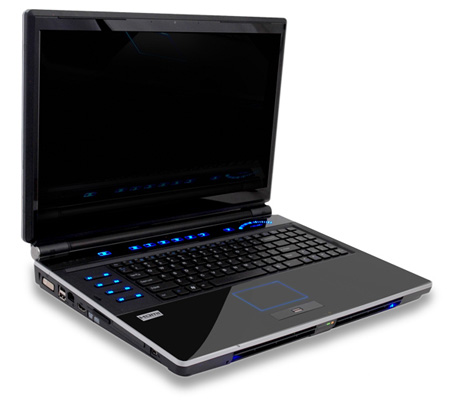 Inside the optimistically-mobile system (which looks suspiciously like a Clevo shell), there's enough power to put your average desktop to shame. BFG has equipped Deimos with a choice of Intel Core 2 Duo, Core 2 Quad or Core 2 Extreme processors, up to 8GB of DDR3 memory, up to 1.5TB of storage (via three 2.5in drives in RAID configuration) and there's room for a pair of SLI'd NVIDIA GeForce GTX 280M GPUs.
All that comes together to power a sumptuous full-HD (1,920x1,080) 18.4in LCD display.

You can add Wireless, Bluetooth and Gigabit Ethernet to the spec sheet, as well as HDMI out, DVI out, S/PDIF, four USB ports, eSATA, FireWire, a seven-in-one card reader, a two megapixel webcam, and a fingerprint scanner. Not to mention a five-speaker audio system and a built-in subwoofer.
Not a bad little run around, we reckon, and U.S. pricing starts at $2,299 for the "entry-level" model. BFG's complete specifications can be found below.
Deimos X10 – Performance
Deimos X10 – Advanced
Deimos X10 – Elite
Priced from

$2,299

$3,699

$4,499

Display
18.4in Full 16:9 HD (1920x1080) TFT LCD
CPU
Intel Core 2 Duo P8700 2.53GHz
Intel Core 2 Quad Q9000 2.00GHz
Intel Core 2 Extreme QX9300 2.53GHz
GPU
Dual NVIDIA GeForce 260M 1GB (SLI)
Dual NVIDIA GeForce 280M 1GB (SLI)
Dual NVIDIA GeForce 280M 1GB (SLI)
Memory
4GB PC3 10600
(1333MHz) DDR3
8GB PC3 8500
(1066MHz) DDR3
8GB PC3 8500
(1066MHz) DDR3
HDD
Two 320GB HDD in RAID 0 (640GB)
Two 500GB HDD in RAID 0 (1TB)
Two 320GB HDD in RAID 0 (640GB)
Sound System

High Definition audio interface
3D stereo enhanced sound system
S/P DIF digital output
Built-in microphone
Built-in five speakers
Built-in sub-woofer
Dolby surround supported

I/O Port

4x USB 2.0 port
1x eSATA port 
1x IEEE 1394a port
1x DVI-I output port (with CRT)
1x HDMI output (with HDCP)
1x headphone jack (external 5.1CH audio supported)
1x microphone jack (external 5.1CH audio supported)
1x S/P DIF output jack
1x RJ-45 jack
1x DC-in jack
1x Line-in jack  (external 5.1CH audio supported)
1x CIR for TV remote controller
1x CATV input jack function for TV Tuner

Card Reader
7-in-1 Card Reader (MMC/RSMMC/MS/MS Pro/MS Duo/SD/Mini-SD)
Communication

Built-in 10/100/1000MB Base-TX Ethernet LAN
Realtek RTL-WLAN 802.11 b/g Wi-Fi
Bluetooth V2.1 + EDR module
2.0M pixels Video Camera

Security

Kensington  Lock
Fingerprint security

OS
Microsoft Windows  7