No style at all
Hauppauge's UK sales representative, Phil Grace, was on hand at CeBIT to show us some of the company's new products for 2008. The one that Hauppauge is most proud of is its portable media player.
The Hauppauge PMP, pictured below, measures 12 x 7.8 x 2cm and weighs 200 grams. It'll give you a 3.5in screen with a 320 x 240 resolution and provide Freeview TV, an EPG and teletext.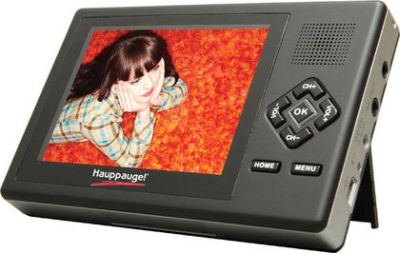 If Freeview isn't your thing, USB connectivity will allow you to store content on an SD/MMC card. The player supports all the right formats, so your XviD and DivX content is good to go. Unfortunately, and fairly decent functionality aside, this PMP is just plain ugly. It looks akin to a mid-1980's device, complete with plastic finish.
Hauppauge is somehow mighty proud of the device, and it'll launch in April at around €150. For Hauppauge's sake, let's hope there's a makeover before it reaches retail.