Razer unveiled another one of its show stopping 'concept' machines at CES this year. This time around it has produced a prototype laptop which auto-deploys a trio of 17.3-inch 4K displays for a 12K (11520 x 2160) widescreen experience. Razer has put together a 40 second showreel summarising Project Valerie and I've embedded it directly below.
"Multi-monitor desktop set-ups are becoming more necessary for professionals, creators, and gamers," said Min-Liang Tan, Razer co-founder and CEO. "For the first time, we've engineered a solution that users can take with them. Project Valerie promises all of the functionality of three screens and none of the hassle."

The monitor panels chosen are 17.3-inch 4K Sharp IGZO units. Furthermore, these displays are said provide 100 per cent Adobe RGB colour accuracy, and are G-Sync enabled. Razer has implemented a snazzy automatic deployment mechanism so the left and right screens emerge and position themselves ready for triple screen action.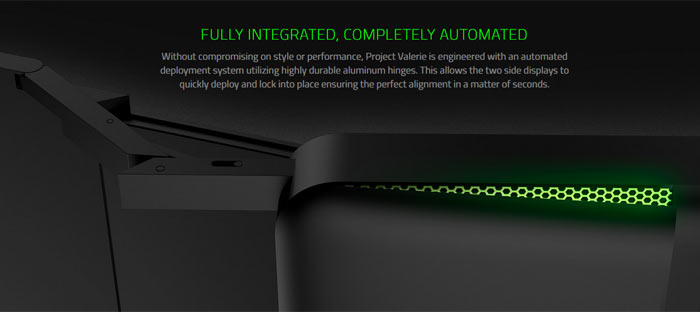 Another bonus of this triple screen system is that it is integrated so multi-monitor support is there without any cable clutter, for example. However it makes for a chunky laptop with the triple monitor panels on top of the keyboard and processing unit (1.5-inches thick and 5.4Kg).

Elsewhere the new concept laptop features an Nvidia GeForce GTX 1080 (on which you will have to dial back the quality settings for a bearable 11520 x 2160 resolution frame rate). It has a built-in mechanical keyboard, a compact AC adapter, Vapour chamber cooling system, Chroma RGB lighting, and the chassis is a unibody CNC aluminium design, just like other Razer models.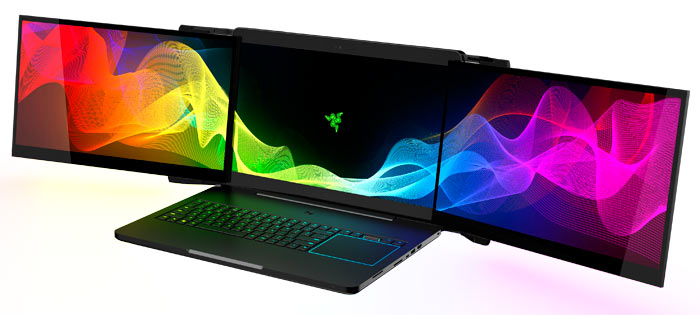 We don't have any pricing or availability details for this prototype laptop, it is after all a 'project' or concept.