According to Korean PC hardware enthusiast site Hardware Battle, Nvidia is preparing two new mobile GPUs, introducing an extended nomenclature to the green team's mobile lineup. The GTX970MX and GTX980MX are said to be scheduled to ship in partner products from Q2 2016 onwards.
Unfortunately Hardware Battle doesn't cite any sources to back up its assertions. However the site does offer a rather detailed breakdown about what each new upcoming mobile GPU will offer. Leak-centric graphics card enthusiast site VideoCardz has put together a nice and clear comparison table featuring the GTX970MX and GTX980MX side-by-side with the existing GTX970M, GTX980M and GeForce GTX 980 laptop GPU, so I have embedded that below: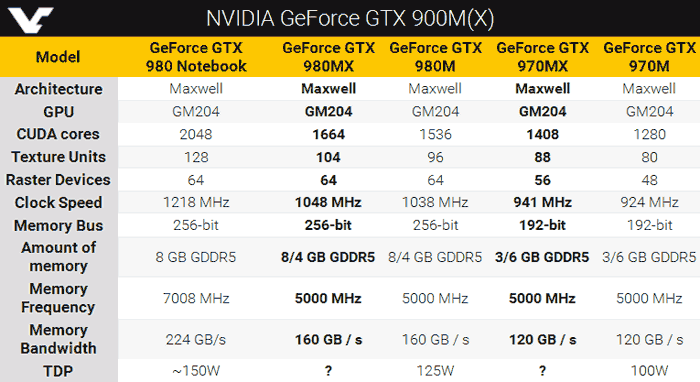 Looking at the nitty-gritty of these MX updates, extra processing power is brought to the mobile gaming space by a bump in CUDA core counts, more texture units and a slight bump in GPU clock speeds. The GTX970MX also gets 15 per cent more RoPs than its direct ancestor.
As noted by VideoCardz, the existing solutions on offer from Nvidia in the mobile space are already clearly dominant. However product marketers like shiny new things and the designs could be paired with refreshed gaming laptops that partners want to launch this summer - at Computex probably. So brace yourself for the onslaught of GTX900MX series gaming laptops this summer.
These high end mobile GPUs could well be the last shout for 28nm before the expected arrival of 14/16nm AMD and Nvidia next-gen GPUs.