AMD has already released the Radeon HD 2900 XT and, soon, it will be followed by lower-cost HD 2600 and 2400 desktop models.

HIS is one partner that tends to indulge in pre-overclocking to a greater degree, so expect to see IceQ3 models for the low-to-midrange lineup.





AMD has given its AICs leeway to create their own designs for the HD 2000 series. One that's proving to be popular - with GECUBE announcing it just before COMPUTEX 2007 began - is a twin-GPU Radeon HD 2600 XT.

[advert]Considering that it will arrive significantly later to market than the regular 2600 XTs - probably with a stiff high street price and, therefore, most likely not challenging the well-priced HD 2900 XT - we see it more as an engineering showcase than retail winner. Time will tell.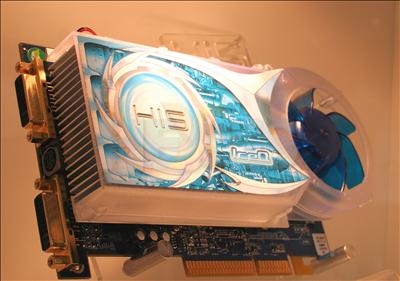 AMD has done well in the midrange graphics-card space by having the Radeon X1950 Pro available in AGP flavour, not just PCIe. The same is likely to be true with the Radeon HD 2600 XT, as you can see by the slot interface on the above card. And, HIS is adamant that the AGP variant will be available only a short time after the PCIe model's release.