Loading...
Been waiting a while?
Get Flash
to see this player.
At Computex 2015 graphics-card vendor Inno3D has been showcasing three of its latest products based on the recently released Nvidia GeForce GTX 980 Ti GPU. The company's high-end range starts with the iChill GeForce GTX 980 Ti X3 Ultra, which uses a custom triple-fan cooling solution on a reference PCB design.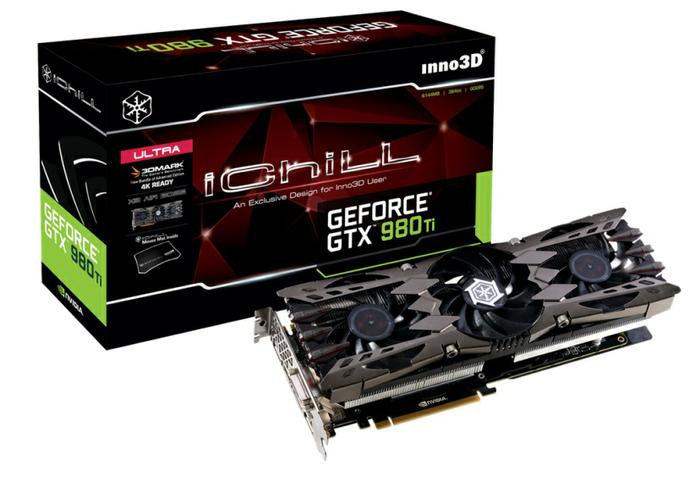 This graphics card comes equipped with a full backplate, memory and VRM heatsinks as well as the HerculeZ cooler with a 118-fin aluminium heatsink, three 6mm heatpipes and two 8mm heatpipes. The HerculeZ cooler makes use of a modular design for easy cleaning and maintenance and the graphics card comes with overclocked memory, 7,200MHz, and an overclocked core boost, 1,138MHz, up from the 1,076MHz boost and 7,000MHz memory on the reference design.
The next model in the Inno3D GTX 980 Ti series is the iChill GeForce GTX 980 Ti X4 Ultra. As the naming would suggest the X4 Ultra gets an additional fan over the X3 which is a top mounted 50mm fan tasked with providing extra cooling to the memory, VRMs and PCB components. In addition to the top fan and some red accenting the X4 Ultra also features a slightly higher boost clock of 1,152MHz alongside the same 7,200MHz memory clock.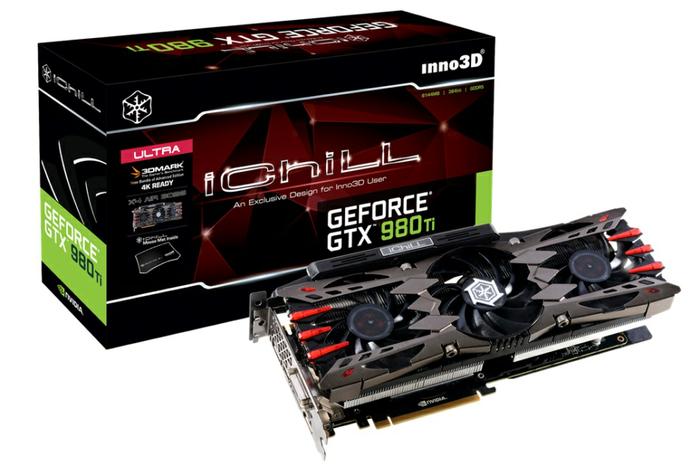 The final GTX 980 Ti from Inno3D is the iChill GeForce GTX 980 Ti Black, which makes use of a hybrid cooling solution. This graphics card features a full backplate and a reference PCB, like other models, but equips an AIO-style water cooling solution to cool the GPU core while a small fan deals with VRM and memory cooling. The AIO cooler is likely manufactured by Arctic Cooling, given past collaboration between these two companies, and uses a 120mm radiator with a 120mm fan.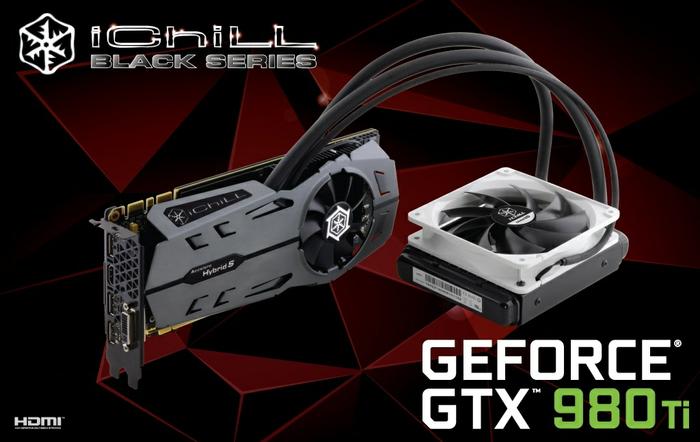 Deploying a high-performance water cooler allows Inno3D to reach its highest core clock speed of 1,203MHz boost and 7,280MHz memory for this particular GTX 980 Ti. Inno3D explained that availability for all three products starts from next week, though pricing is still yet to be finalised.