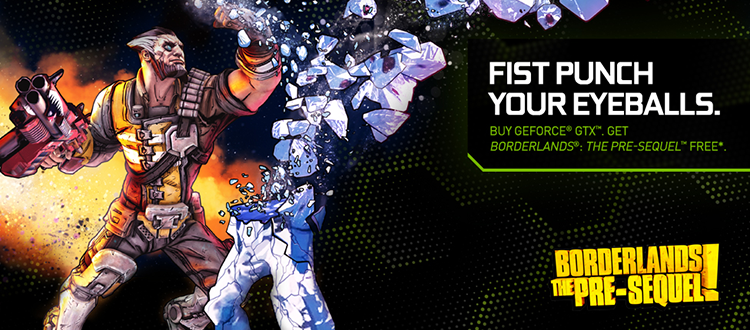 Nvidia has announced that gamers purchasing a GeForce GTX 770, 780, 780 Ti, or Titan Black will be eligible for a free copy of 2K Australia's eagerly-anticipated first-person shooter, Borderlands: The Pre-Sequel!
The promotion, which began yesterday on August 12, will run "for a limited time or while supplies last" and will offer eligible GeForce buyers a digital download code that can be used to obtain the game via Steam after its release on October 14.
Set between the first and second Borderlands games, The Pre-Sequel! tells the story of Handsome Jack and his descent into villainy. Naturally, the narrative will include high-octane action and an array of new weapons, including new vehicles designed to offer "more levels of destructive mayhem." Sounds like the Borderlands we know.
It's a shame Nvidia hasn't extended the reach of the promotion to mid-range cards - GeForce GTX 760 or lower don't apply - but the freebie gives added incentive to anyone contemplating a high-end graphics upgrade.
As always, the promotion is only available from participating retailers. Here in the UK, the list includes Scan Computers, Overclockers UK, Novatech, Dabs and Ebuyer.
Further details, with full terms and conditions, are available at geforce.com/getborderlands