Without any great fanfare, NVIDIA has launched a new product at the bottom of its GeForce 7 series line-up.
The GeForce 7100 GS has a quaint 350MHz core clock and comes equipped with DDR2 memory. TurboCache is supported, giving the cards access to up to 512MiB frame buffer in total, provided the host system has at least 1GiB of RAM.
Palit Microsystems is one of the first to announce its 7100 GS SKUs, one with 128MiB on-board memory, the other with 256MiB and both supporting 512MiB through TurboCache.
Our favourite quote from Palit's press release has to be "Palit 7100GS is supporting up to 512MB when the system memory is 1GB, which will be suited for entry players who want to experience beyond gaming performance." Beyond or below? The fairly anaemic GPU will mean that no amount of frame buffer is likely to give thrilling gaming performance on anything but older games.
Criticisms aside, it will make a cheap, cool and small product that can drive many a display, providing the same features as the rest of its GeForce 7 series brethren, including PureVideo video acceleration. SLI's supported too. It'll be interesting to see what single card is equivalent to two 7100 GS cards in terms of performance.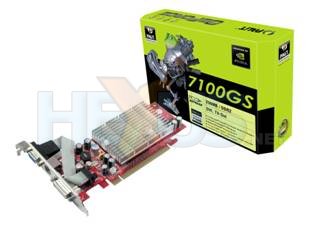 HEXUS.links
NVIDIA :: GeForce 7100 product page.
Palit :: Palit 7100 GS.