XFX to power Apple Mac G4s

Speaking exclusively to HEXUS, XFX Graphics has revealed that it has signed a licensing agreement to develop and bring to market a range of NVIDIA GeForce-based Shader Model 3.0 graphics accelerators to upgrade Apple G4 Mac PCs.

Apparently XFX and Apple have been engaged in negotiation for some 18 months and the first fruits of their agreement are set to be available around June of this year.

The initial offerings will be XFX GeForce 6600 GT AGP products, though other, even more powerful and higher-end, variants should follow soon after.

For the present it seems these XFX graphics cards will be available from Apple's own on-line store, from specialist Apple Mac resellers and Apple's distribution chain.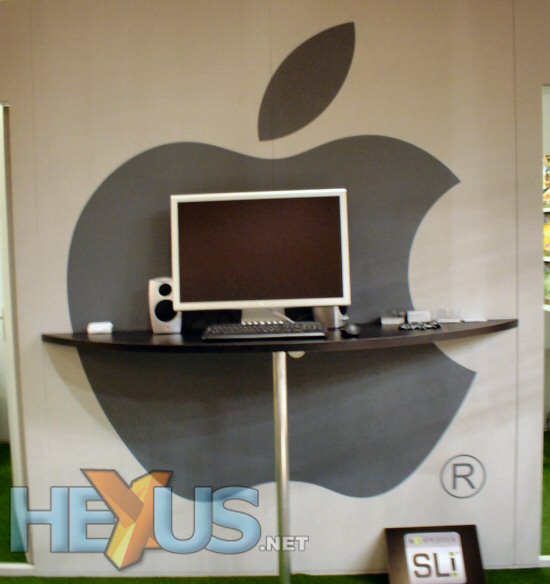 The NVIDIA GeForce 6600 GT GPU engine clocks for the G4 Apple Mac's are still being finalised by XFX, though HEXUS has been told that it seems likely these will be set to at least 500MHz.

With a reputation as perhaps the most ostentatious of NVIDIA's Add-In-Board (AIB) partners (which is probably one of the reasons XFX has become the shooting star, and taken over from Gainward as the premier NVIDIA AIB), XFX has unusually been very subtle in its presentation of its entry into the Apple Mac based graphics market.

Last year at CeBIT, XFX's exhibition booth was rigged to appear like a garage or workshop, and presumably the messaging to visitors was to 'have the right tool for the job'. This year XFX has created what seems to be a boxing or training gym; complete with punch-bags and kit-lockers (though most attention seems to be focussed on the charms of two, er, 'fit' looking, scantily clad XFX frauleins; both of whom look well up for it - 'training to win', we mean...) but in giving the game away of its involvement with Apple, XFX has resorted to almost sublimal messaging. As can be seen above, a 30in Apple monitor with a live demo of the 3D shooting game F.E.A.R has been set against a plain wall upon which is a large grey Apple logo.

Testing of the XFX GeForce 6600 GT for Apple G4's in still ongoing, with NVIDIA actively providing device-driver support.

With the rejuvenation of interest in Apple computers following the fairly recent announcement of Intel's involvement with Apple, we wonder if another fierce battle between ATi and NVIDIA for 3D graphics market supremacy for Apple OS based systems is set to happen.

If so then XFX's forward-thinking approach could pay off.