Yes; it runs Crysis
Continuing the march of progress, NVIDIA has pushed out its latest notbook graphics chips, the GeForce 570M GTX and GeForce 580M GTX. The later of these is not only said to be capable of playing Crysis 2, but is also the 'worlds fastest' mobile graphics card - at least according to NVIDIA.
Specs wise the GeForce 570M GTX and 580M GTX are separated primarily by their processor core count and memory interface. The 570M GTX features 336 cores running at 1,150MHz, coupled to a 192-bit memory interface. The 580M GTX takes the core count to 384 at a faster 1,240MHz and has a wider 256-bit memory interface. Both chips are 3D vision and SLI-capable, as well as offering PhysX support (for the few games still using the technology).
The specific benchmark that the 580M GTX claims its top mark sin is Microsoft's DX11 DSub11 benchmark, but in real game testing the chip is no slug, either, throwing out over 100fps in Call of Duty: Black Ops where a AMD Radeon HD 6970M managed only 85fps. Of course it's possible that these tests particularly favour NVIDIA's GPU, but nonetheless, it's clear that the 5xx-series are no slouches.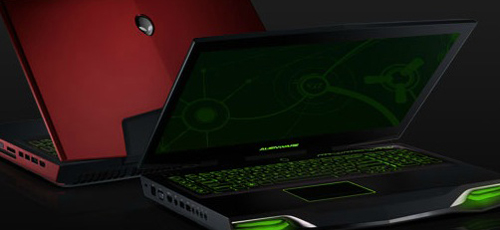 Alienware has snagged itself the small victory of making its M18x and M17x the first systems to offer the 580M GTX. The GeForce 570M GTX and 580M GTX also offer NVIDIA's Optimus graphics switching technology, which lets the main GPU turn itself off when not it use, conserving battery live. The M18x will last about five hours of non-gaming as a result, which isn't bad given the power on tap when needed. Most importantly, the M18x has been shown off running Crysis 2 - the ever-popular system-crippling test game.
Whether the GeForce 580M GTX manages to hold onto its self-proclaimed 'worlds fastest' title for long remains to be seen. For now, though, if you're after the speediest in notebook graphics, you know where to look.