Slipping in before tomorrow's GTX 590 launch, Point of View and TGT have announced a cocktail of GTX 550 Ti spirits, all boasting factory-overclocked goodness at, what is claimed to be, marginal additional cost over reference solutions.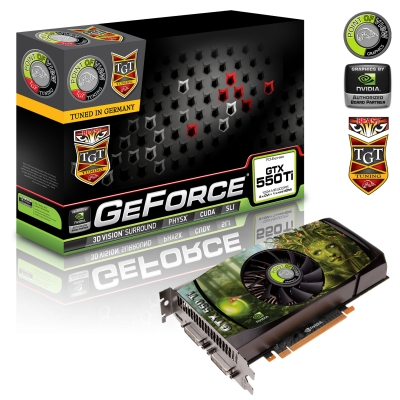 Noting clock speeds of 900MHz, 1,800MHz and 4,104 MHz for the GPU core, shaders and GDDR5 memory, respectively, on a reference solution, we begin with the PoV/TGT GeForce GTX 550 Ti Beast SKU. Hoping to bring out the monster in you, you get a merger of 1,012MHz core speeds, 2,024MHz shader speeds and 4,422MHz memory speeds here, at a suggested retail price of €169.
At the €159 level, PoV/TGT offers the GeForce GTX 550 Ti Ultra Charged SKU that retains memory speeds of 4,422MHZ, whilst clocking in at 990MHz and 1,980MHz on the core and shader speeds side of the equation.
Coming in at the foundation level of €149, the GeForce GTX 550 Ti Charged SKU delivers speeds of 960MHz, 1,920MHz and 4,224MHz in the respective core, shader and memory departments.
Marketed as being hand-selected with the know-how of TGT, the line-up is said to deliver a camaraderie of enhanced performance and rock-solid stability.